FOUR TO FIVE PERSON INFRARED SAUNA MODELS
Enjoy a more luxurious sauna session with our 4-5 person sauna models. Each comes standard with the high quality design and state-of-the-art technology affiliated with the Jacuzzi® brand and with exclusive features that add to your overall infrared sauna experience.
The Clearlight Sanctuary Y Full Spectrum Infrared Sauna & Hot Yoga Room transforms into your own personal Zen retreat. Receive the benefits of infrared therapy while using the Sanctuary Y as an infrared sauna or remove the benches and turn it into your own private hot yoga room.
The Clearlight Sanctuary C, Sanctuary Retreat and Sanctuary Outdoor 5 Full Spectrum Infrared Sauna and Clearlight Premier IS-5 Far Infrared Sauna models also are designed with optimal comfort levels in mind. The built-in ergonomic bench/backrest and chromotherapy light maximize the experience for each user in these 4 or 5-person saunas. Together, they help stimulate the senses in positive ways to achieve a higher level of therapeutic benefits.
Each 4 or 5 person infrared sauna is positioned to generate heat at even levels over your entire body and has digital controls to adjust the temperature, time, and lights.  The elegant design and calming ambiance of our Clearlight Sauna® models deliver a tranquil space to relax, unwind, and become rejuvenated through the power of infrared heat. You can truly create a customized experience with every use.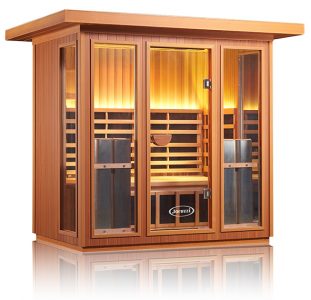 Clearlight Sanctuary Outdoor 5 Full Spectrum Infrared Sauna
82.25″ x 51.5″ x 80″
240 volts | 16 amps | 3,800 watts
Weight: 1,050 lbs
Engineered Wood Outside/Cedar Inside
Near, Mid and Far Infrared
Tablet/Smartphone control
Doctor Designed Ergonomic Bench/Backrest
Medical Grade Chromotherapy Light
5 Year Cabin & Lifetime Component Warranty
Clearlight Premier IS-5 Far Infrared Sauna
83″ x 49″ x 76″
230 volts | 13 amps | 2,990 watts
Weight: 700 lbs
Low EMF / Low ELF
Canadian Cedar or Basswood
Doctor Designed Ergonomic Bench/Backrest
Standard Chromotherapy Light
Far infrared sauna
Complete Limited Lifetime Warranty