JACUZZI® UV DISINFECTANT WAND
PEACE OF MIND FOR YOUR HEALTH & SAFETY
THE JACUZZI® UV WAND DISINFECTS 99.9% OF GERMS, BACTERIA AND VIRUSES WITHIN SECONDS
THE JACUZZI® UV WAND DIFFERENCE
Mixed Wave™ Technology:  UVC & UVA
Doctor Designed
No mercury, no glass and built to last
100% Ozone Free & Chemical Free
High grade sapphire quartz optics
Up to 10 x's more powerful than other UV wands
2 x's more LED's than other LED UV wands
Developed and assembled in the USA
Full charge in one hour
Lifespan: 50,000 hours
Solid-state technology
One Year Warranty
Includes safety goggles, gloves and carrying case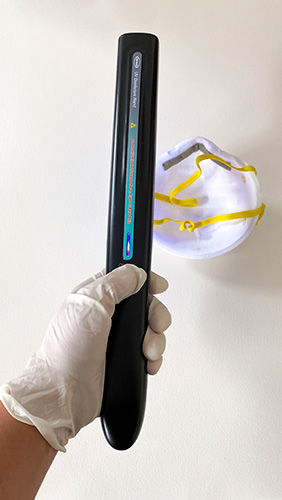 THE SCIENCE OF UV STERILIZATION
Harmful germs and bacteria are everywhere.  Now more than ever it's important to ensure that the space around us is healthy and safe.  Sterilizing hand gels, disinfectant sprays and sanitizing wipes are not enough to ensure a healthy environment.  Many bacteria and viruses are heat, cold and drug resistant, but they are not resistant to Ultraviolet light (UV).Emitting both UV-C at 270 – 280nm and UV-A at 380 – 405nm, the Jacuzzi® UV Wand damages the DNA and RNA in bacteria and viruses rendering them harmless.  Using high powered LED's, the UV Wand allows you to disinfect up to 10x faster than most fluorescent UV devices and the Jacuzzi® UV Wand is up to 2x more powerful than other LED UV devices.
As evident by multiple research studies and reports, when biological organisms are exposed to deep UV light in the range of 200 nm to 300 nm, the UV is absorbed by the DNA, RNA, and proteins.
Absorption by proteins can lead to rupture of cell walls and death of the organism. Absorption by DNA or RNA (specifically by thymine bases) is known to cause inactivation of the DNA or RNA double helix strands through the formation of thymine dimers. If enough of these dimers are created in DNA, the DNA replication process is disrupted, and the cell cannot replicate.
It is widely accepted that it is not necessary to kill pathogens with UV light, but rather apply enough UV light to prevent the organism from replicating.
UV-C has been proven to kill strands of coronavirus (below are research studies demonstrating the effectiveness of UV-C light on SARS and MERS).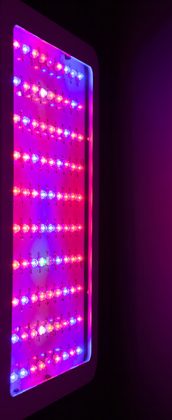 Ultraviolet (UV) light is a component of the electromagnetic spectrum that falls in the region between visible light and X-Rays.
This invisible radiation includes the wavelength range of 100 nm to 400 nm. UV light can be further subdivided and categorized into four separate regions:
100 nm to 200 nm
Far UV – These wavelengths only propagate in a vacuum
200 nm to 280 nm 
UVC – useful for disinfection and sensing
280 nm to 315 nm
UVB – useful for disinfection, curing, tanning and medical applications
315 nm to 400 nm
UVA (or "near UV") – useful for disinfection, medical applications, printing, curing, lithography, and sensing
Size: 14.5" x 1.625" x 1.25"
Weight: 6.5 oz
Wavelengths: UV-C: 270-280nm / UV-A: 380-405nm
Irradiance: 12 mJ / cm2
Voltage: DC 5v / 2A
Wattage: 8w
Control: 60 minute timer
Battery: 2,000 Mah (~90 mins of continuous use)
Color: Black
Warranty: One Year
LEARN MORE AND ORDER YOUR JACUZZI® UV WAND