ONE PERSON INFRARED SAUNA MODELS
The Clearlight 1-person infrared sauna models transform even the smallest space into a personal wellness retreat. Our 1 person saunas are the only low EMF and low ELF infrared saunas available. Each is ergonomically designed to offer the maximum level of therapeutic benefits while being adaptable to either a business or home environment since it requires minimal space to install.
Many of our customer's purchase an infrared sauna for the health and wellness benefits especially when they are recovering from an injury or chronic pain.  For people who may benefit from daily or frequent exposure to infrared heat, a 1-person infrared sauna may be the optimal solution.
In reservations mode, your one-person sauna will be ready for you whenever you need it. Simply schedule your sauna to turn on at a specific time each day. It will allow you to relax as quickly and easily as possible. You will receive more optimal benefits with the consistent use of your Jacuzzi® sauna.
Choose from either our Clearlight Sanctuary 1 Full Spectrum Infrared Sauna or Clearlight Premier IS-1 Far Infrared Sauna.  Each sauna offers chromotherapy lighting, in addition to comfortable seating and backrests. What better way to begin or end each day than a relaxing session in your personal infrared sauna?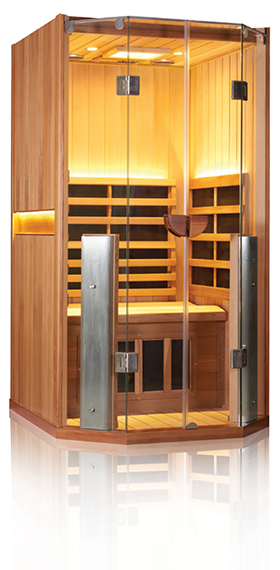 Clearlight Sanctuary 1 Full Spectrum Infrared Sauna
43″ x 48″ x 77″
120 volts | 14.6 amps | 1,750 watts
Weight: 425 lbs
Canadian Cedar or Basswood
Near, Mid and Far Infrared
Low EMF / Low ELF
Tablet/Smartphone control
Medical Grade Chromotherapy Light
Doctor Designed Ergonomic Bench/Backrest
Complete Limited Lifetime Warranty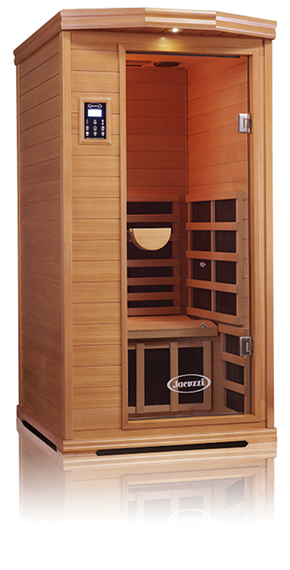 Clearlight Premier IS-1 Far Infrared Sauna
40″ x 44″ x 76″
120 volts | 11.75 amps | 1,410 watts
Weight: 325 lbs
Low EMF / Low ELF
Canadian Cedar or Basswood
Doctor Designed Ergonomic Bench/Backrest
Standard Chromotherapy Light
Far infrared sauna
Complete Limited Lifetime Warranty