BREATHE EASIER WITH HALOONE® HALOTHERAPY
20 million years ago Eastern Europe was partially covered by a shallow sea. With the disappearance of the sea, large amounts of layered salt were left behind. In the 14th century people started to mine salt for their own use and for sale. Large salt mines were developed in the south of Poland near Krakow leaving huge chambers deep in the mountains Over time, it was discovered that salt miners had very few respiratory conditions as a result of working in the salt mines.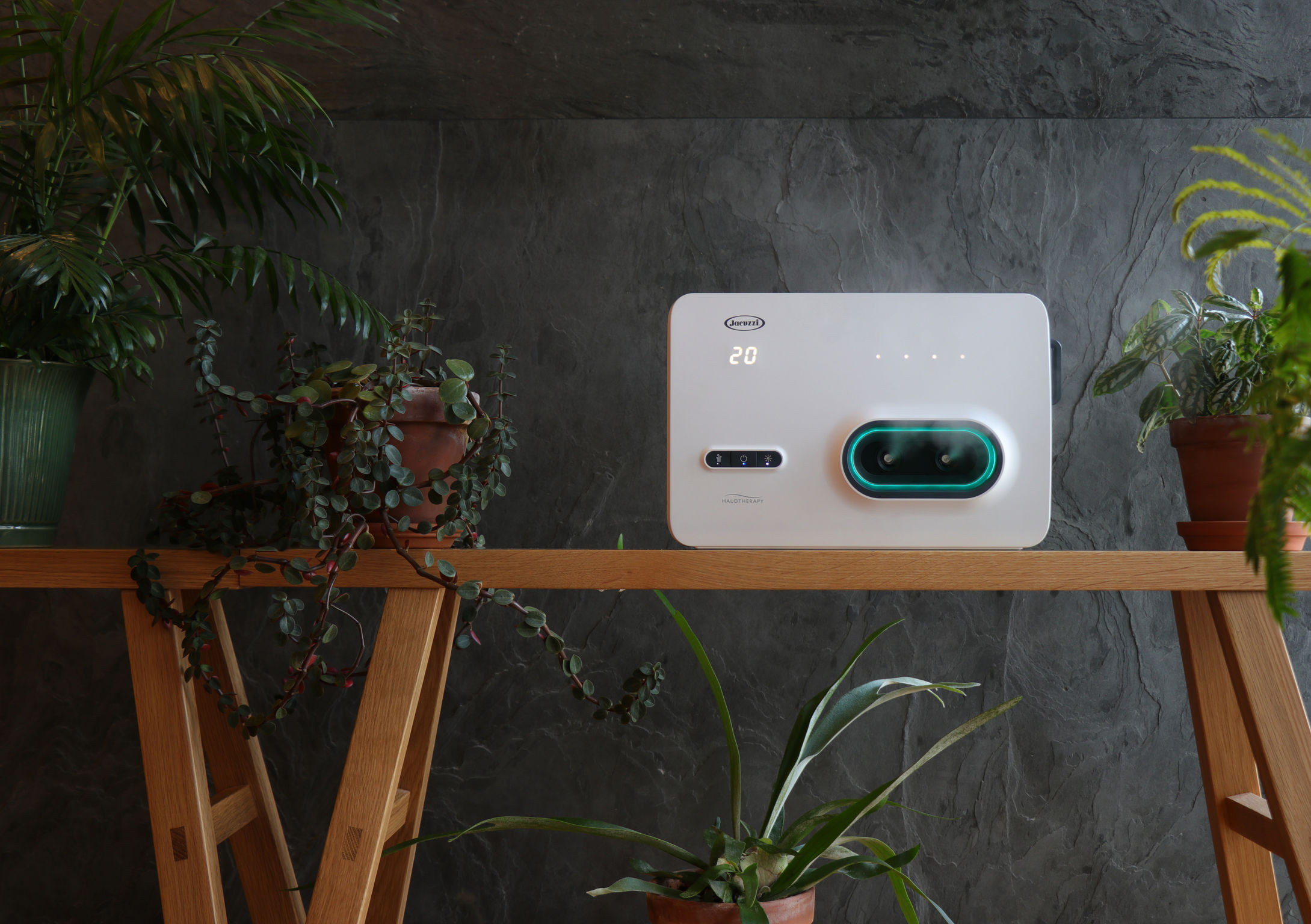 RECOGNIZING THE EFFECT ON HEALTH
In the 1840s, a Polish doctor named Feliks Boczkowski noticed something interesting while treating workers in the Wieleczka Salt Mines. Unlike other miners who routinely experienced lung problems from breathing in the pollutants in the mines, he found that patients rarely had respiratory issues. Boczkowski attributed this to the high salt content in the cave's microclimate and he published a treatise detailing his theories in 1843. Several years later one of his pupils opened the first salt inhalation clinic in Poland.
This was not the first-time people had drawn the connection between salt content in the air and improved respiratory health. Catholic monks in Europe regularly brought people with respiratory issues into salt caves and then crushed the salt with their feet to release it into the air. Salt therapy was also used in the days of ancient Greece and Rome.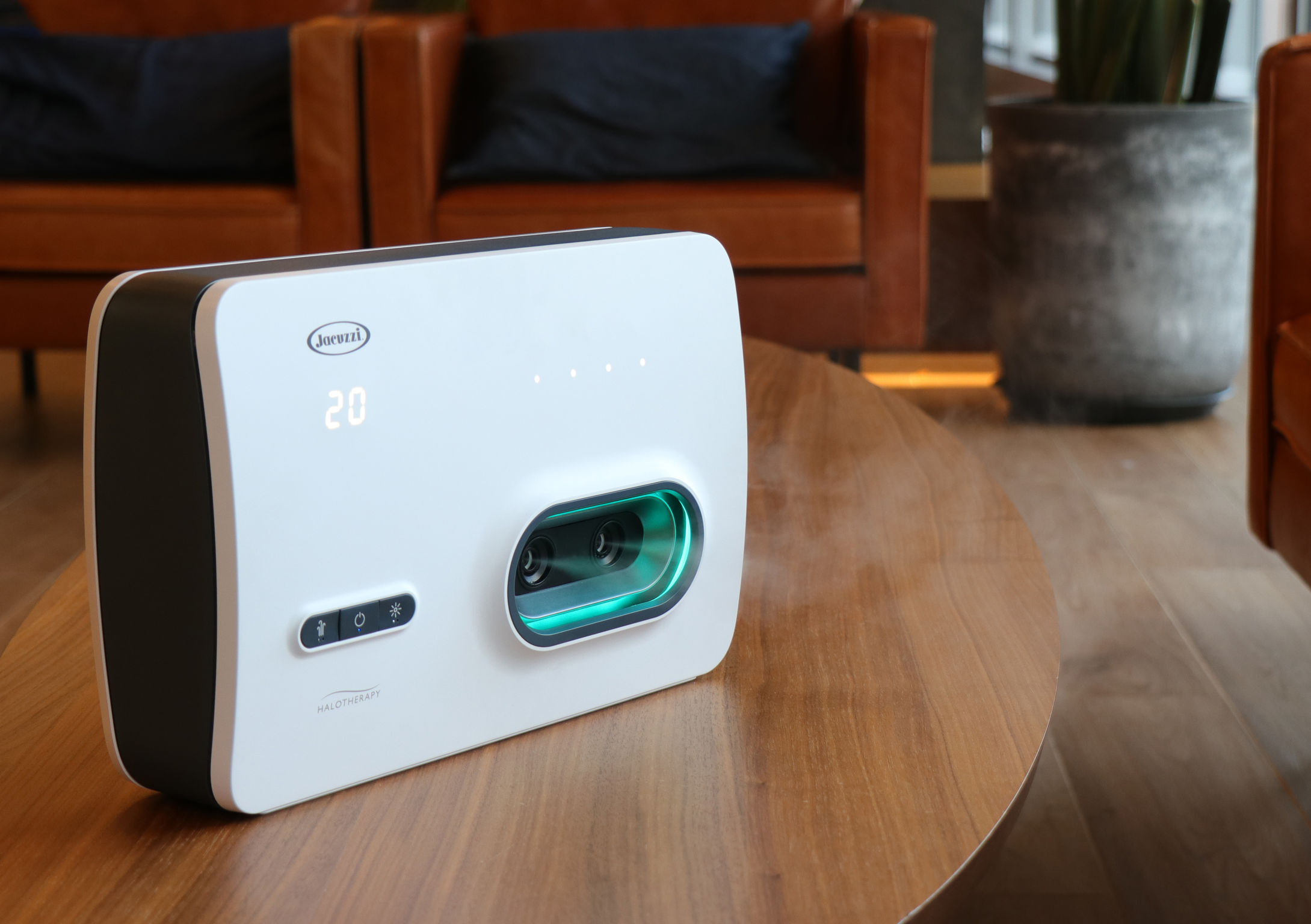 The powerful healing properties of halotherapy are earning the attention of some of the world's most advanced medical institutions and publications. Many believe that when people inhale this salty air, it can help stimulate the respiratory system, reduce inflammation, fight infection, clear blockages and reduce discomfort.
Halotherapy therapy is believed to be antibacterial and anti-inflammatory, and can help with excessive mucus, pathogen agents, digestive issues, depression, skin conditions, and immune system oversensitivity. With all these benefits, it is easy to see that incorporating salt therapy into your life can help improve overall wellness.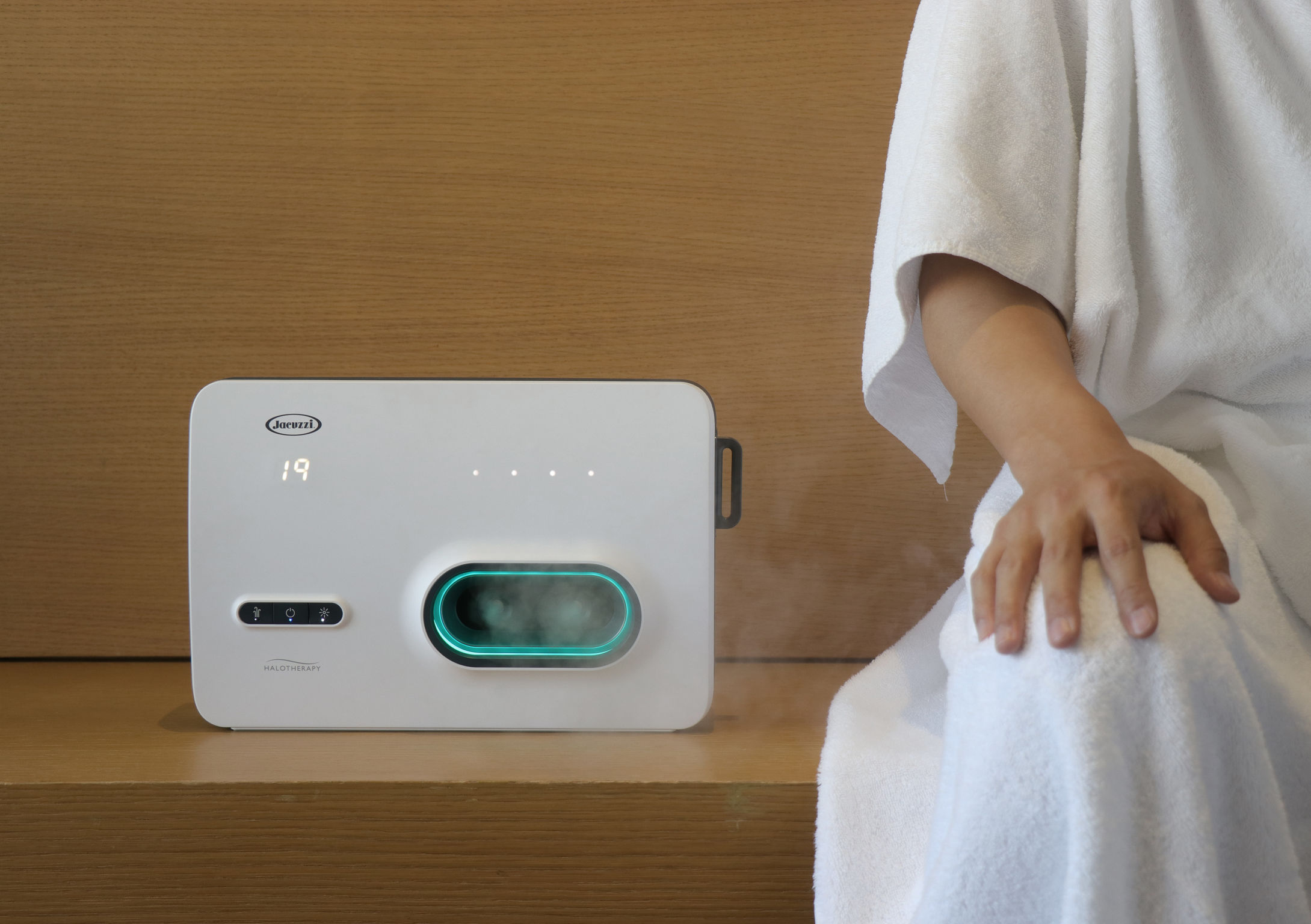 Health benefits of salt therapy include aid in treatment of the following conditions:
| | | |
| --- | --- | --- |
| Asthma | Colds | Depression |
| Chronic Bronchitis | Ear Infections | Seasonal Affective Disorder  (SAD) |
| Breathlessness | Sinus Infections | Psoriasis |
| Chest Tightness | Allergies | Eczema |
| Tonsillitis | Hay Fever | Acne |
| Laryngitis | Snoring | Rosacea |
| COPD | Sleep Apnea | Dry Skin |
| Cystic | Fibrosis Insomnia | Rashes |
THE JACUZZI® HALOONE® HALOTHERAPY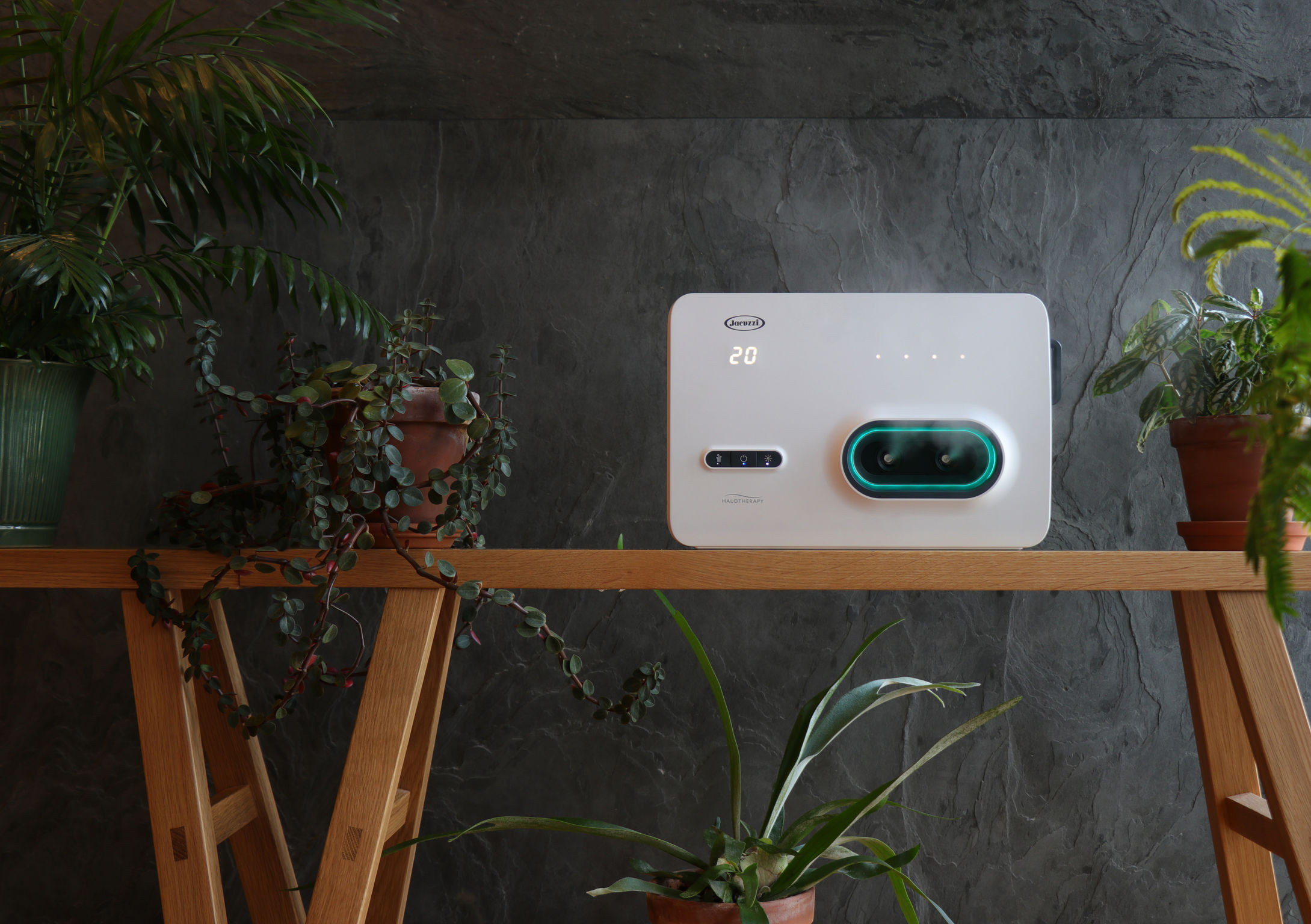 Since most of us don't have regular access to salt caves, The HALOONE® Halotherapy generator is a practical and therapeutic option for incorporating salt therapy into your wellness routine. Your HALOONE® can be used both in your Jacuzzi® infrared sauna or your home or office.
This quiet, easy-to-operate award-winning device utilizes a liquid saline mixture of micronized salt particles which are then dispersed into in to the air. The HALOONE® is the only halotherapy generator producing salt particles between 1-10 microns. We create the salt particles with our Vibrating Mesh technology. This means the salt will reach more area of your lungs than any other halotherapy on the market.
See more halotherapy benefits and methods for adding salt therapy to your Jacuzzi ®  infrared sauna.
FREQUENTLY ASKED QUESTIONS ABOUT HALOTHERAPY
What is halotherapy?
Halotherapy, also known as Salt Therapy is a holistic approach that mimics the microclimate of a salt cave. Salt air is vaporized and dispersed into the air through our patent pending technology. When you heat salt, it becomes kinetically more active. This heated pharmaceutical grade sodium chloride is reduced into micro-sized particles and dispersed into the air.
Is there research to support salt therapy?
For more information on research, please visit the Global Wellness Institute and the World Halotherapy Association. technology. When you heat salt, it becomes kinetically more active. This heated pharmaceutical grade sodium chloride is reduced into micro-sized particles and dispersed into the air.
How does it work?
We start with a 3% pharmaceutical grade saline solution. The solution is vaporized and then pushed through our Vibrating Mesh technology to create salt particles between 1-10 microns. The micro-sized salt particles are then dispersed into the air for you to breath in. We recommend a maximum room size of 10'x10' (300*300cm)
When should halotherapy be avoided (contraindications)?
Halotherapy is a natural therapy however any clients who have any serious health conditions or women who are pregnant should always seek proper medical advice before using the HALOONE®.
Contraindications include:
Infections associated with a fever.
Contagious diseases.
Respiratory system cancers.
Tuberculosis.
Cardiac disease patients.
Acute respiratory disease.
Severe hypertension.
Chronic obstructive lung diseases.
Are there any side effects?
There are typically no side effects other than the taste of salt and potentially thirst or a scratchy throat. However, if someone is on any medications or suffers from any serious medical issue please seek medical advice before any therapy.
What kind of salt is used?
99.99% pure sodium chloride (Pharmaceutical grade salt). It contains no fillers or caking agents. It comes from a natural source and it is naturally processed to remove all of its impure elements. It is the same salt that hospitals use and is the same type of salt used in Halotherapy research.
How many sessions/times a week is necessary?
Halotherapy offers the best results when practiced regularly. The benefits are cumulative, so consistency and frequency are the key. People with chronic issues will benefit greatly using the HALOONE® at least 3-4 times a week. Those who are looking to incorporate Salt Therapy into their regular wellness routine would benefit from a weekly session.
What is the treatment duration per session?
The single use HALOONE® saline cartridge will last 20-25 minutes.
SALT THERAPY AT HOME
Find out how you can have a salt sauna or salt room at home by adding the Jacuzzi® HALOONE® to your wellness routine. Give us a call today at +6012.297.1138 to speak to a wellness specialist.