14 Nov, 2019
/
Clearlight Infrared Saunas
/
No Comments
10 Healthy Holiday Tips for Physical and Mental Health
Though it's the most wonderful time of the year, the holidays can bring about a lot of unhealthy things, from over-the-top meals to stress. Luckily, balancing holiday happenings and your health only requires setting some time aside to focus on yourself and wellbeing. Read below to learn how to find a healthy balance this holiday season with these tips to maintain your physical and mental health.

Health Holiday Tips for Physical Health
Detoxify
One of the most useful healthy holiday tips is detoxification. There are many benefits of detoxification, such as the elimination of toxins and chemicals, ease of muscle soreness, and general relaxation. Sweating is one of the main forms of detoxification. Either hit the gym or use an infrared sauna for a deep sweat session that will leave you feeling healthier this holiday season. An infrared sauna will take your detox to the next level with a slew of other health benefits.
Eat Well
Pumpkin pie, hot chocolate, turkey, mashed potatoes, mulled wine… the list can go on for all the delicious treats associated with the holidays. This holiday season, indulge with moderation. Try to keep the decadent treats to a minimum and save up for the big holiday meals. Between the big meals, eat healthy foods as the main part of your diet and make sure you have plenty of fresh fruits and vegetables to get your daily dose of vitamins.
Exercise
Keep yourself warm this holiday season by exercising. Apart from the warmth, exercise is one of the top ways to stay healthy regardless of the season. With large, indulgent meals and the desire to just sit in front of the fire, it's easy to fall off the workout wagon. Get active for 30 minutes every day, whether that means taking a stroll outside or hitting the gym. This way, you can work off those extra holiday calories and get your blood pumping.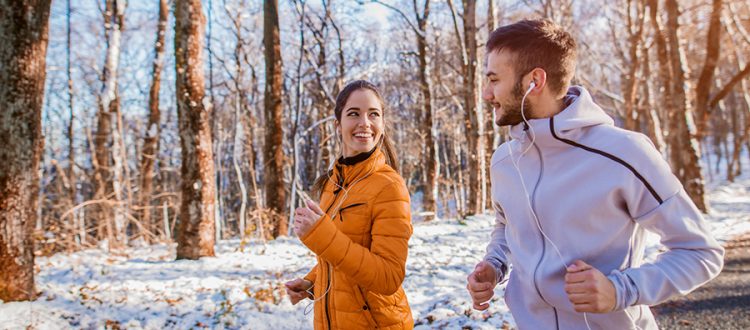 Get Rest
Rest is one of the most important healthy holiday tips. This season, take time to rest and relax to recharge your body. Whether it's an hour to read your favorite book or ensuring you get the proper amount of hours of sleep every night, rest is important for brain function, mood, and even cardiovascular health. Between work, social engagements, and general life things, it is important to make time for yourself and take it easy to let your body heal and recuperate.
Prevent Sickness
The holiday season means colder temperatures, which often lead to sickness if proper precautions aren't taken. Cold weather facilitates the spreading of germs and lowers your immune system. While you may still get a winter cold, there are measures you can take to reduce your chances of catching anything. Do the above and rest, eat well, take vitamins, stay active, and drink water to keep your body in top health. If you do get a cold, try natural cold remedies to help it pass.
Health Holiday Tips for Mental Health
Budget
The financial strain of the holidays can unfortunately be quite wearing on the holiday cheer you're supposed to feel. From gift-buying and decorating to hosting large dinners and paying the heating bill, holiday spending easily adds up. Alleviate some of the financial stress by creating a budget for the holidays. Plan your expenses wisely so you can buy the things you need while still having some extra funds to relax and enjoy the holiday season without worry.
Meditate
Quieting your mind may seem like a difficult task when the holidays are a whirlwind of holiday parties, gift planning, and family travel, but taking 10 minutes of your day to meditate can help significantly reduce your stress. Work meditation into your daily routine, whether it's when you wake up or before bed. Take this time to center yourself and collect your thoughts. Meditation can be done anywhere, but we recommend in a sauna or in bed for ultimate relaxation.

Plan
A little planning goes a long way during the holidays. Plan by creating a list of things that need to be done, then sort each item by priority. Not only does making a list help you organize your thoughts, it also helps you visualize the number of things that need to get done. By seeing everything, you have a better understanding of what needs to get done and by when. Running around in a last-minute tizzy to figure things out will only leave the holidays feeling rushed and stressful.
Set Boundaries
With holiday travels, parties, and other events, your planner may be booking up pretty quickly. An important tip for mentally staying healthy during holidays is learning how to set boundaries. Set these boundaries with yourself and be comfortable with saying no to plans that don't work with your schedule. Overloading yourself with responsibilities will lead to stress and dread, when holiday events should be something you look forward to and enjoy.
Step Outside
Depending on where you are, the weather outside may be frightful, but the benefits of going outside are so delightful. Spending some time outside is linked to many benefits that may affect your mental health during the holidays, such as boosting creativity and concentration, fighting Seasonal Affective Disorder, improving your mood, reducing stress, and preventing cabin fever. Don't get the winter blues stuck inside, bundle up and go outside for your mental health
This holiday season, take care of your mind and body with these healthy holiday tips. Investing in your own health is the best gift you can give and receive. All it takes is setting time aside every day to focus in on your thoughts and taking healthy precautions to make the holidays stress-free and healthy.