27 Feb, 2020
/
Clearlight Infrared Saunas
/
No Comments
CBD Effects, Uses, and Benefits for Holistic Health
CBD, or cannabidiol, products have been taking the holistic health scene by storm, and it's easy to see why. From reduced stress to pain relief, there is a wide range of CBD benefits that can help almost anyone in need. See below how incorporating various CBD products into your life can be beneficial and how you can combine it with other therapies for maximized effects.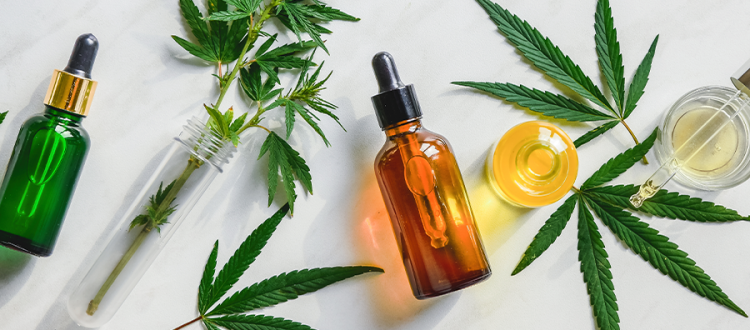 CBD Effects
Cannabidiol (CBD) is one of many active compounds found in the Cannabis plant. Tetrahydrocannabinol (THC) is another active compound and the most well-known, as its psychoactive properties are the ones that induce the "high" feeling. CBD is non-psychoactive but still has a number of the same medical benefits as THC. This allows you to take advantage of the therapeutic benefits without leaving you with the impaired feeling that often goes hand in hand with THC.
Is CBD Legal?
Hemp-derived CBD products (with less than 0.3 percent THC) are legal on the federal level, but are still illegal under some state laws. Marijuana-derived CBD products are illegal on the federal level, but are legal under some state laws. Check your state's laws and those of anywhere you travel.
Marijuana-derived CBD products, or CBD products that contain THC, may be more effective than fiber hemp. But if you live in a state that hasn't yet legalized medical marijuana or these strains are unavailable, you can still benefit from products containing industrial hemp-derived CBD. Keep in mind that nonprescription CBD products are not FDA-approved, and may be inaccurately labeled.

Benefits of CBD
Research on CBD is still in its early phases and , but the results of what has been studied are promising. Some studies have found CBD may be effective in providing relief from various mental health conditions, including:
| | | |
| --- | --- | --- |
| Acne | Depression | Epilepsy |
| Alzheimer's Disease | Diabetes | Muscular Disorders |
| Anxiety | General Pain | Nerve Pain |
| Arthritis | Inflammation | Psoriasis |
| Cancer-Related Symptoms | Insomnia | PTSD |
| Cardiovascular Issues | Eczema | Substance Abuse |
CBD Products & Uses
Edibles and Drinks
These products are created by adding an extract or an isolate into a wide variety of food and drink products. The main benefit of a CBD in an edible or drinkable form is the ease of use and masking taste. However, these forms of CBD products span a wide range of effectiveness depending on the contents. Low effectiveness can be caused by liver processing and low-quality full spectrum extract found in common CBD isolate.
Oils and Tinctures
Often referred to simply as CBD oil, a tincture is an oil-carried form of CBD that is consumed orally by placing it under the tongue. This liquid product usually comes in a small bottle with a dropper and is comprised of several components including CBD extract or CBD isolate base, a carrier oil, and other additives such as sweeteners, flavors, and terpenes. Though more expensive when purchasing, the quantity of CBD oil lasts much longer than other products available.

Patches
For users with chronic issues, patches have the benefit of providing long-lasting relief when compared to a traditional balm or salve. These stick-on patches feature CBD infused strips that are placed onto venous areas of the body like the wrist. These patches are designed to provide slow-release, long-lasting effects for the user. These patches are effective because they hold the cannabinoid against the skin for such a long period of time when compared to a rub-on topical.
Pills and Capsules
CBD capsules are simply a pill-form of CBD extract that is swallowed like any other supplement. These capsules come in either softgels or in a two-piece capsule and often either contain a liquid oil or a powder form of CBD. Taking oil-based capsules orally is actually one of the least bioavailable methods of taking CBD – meaning that a small amount of the compound actually makes it into the bloodstream when compared to other methods of ingestion.
Topicals
There are endocannabinoid receptors in the brain, throughout the nervous system, and in the skin. Skin-based receptors mean that applying topicals directly to a sore or irritated area can provide localized relief. CBD topicals come in a wide range of products, including balms and salves. These products are designed to help in a variety of specialized ways, from massage oil to treatments for muscle soreness and skin conditions.

Vapes
Vaping CBD is similar to any other type of vaping – a CBD extract or isolate is vaporized via a traditional vape pen and inhaled. Of all the methods of taking CBD, inhaling has the quickest onset due to the high bioavailability of inhaling the molecule. There are a variety of CBD vape products available on the market including disposable vape pens, vape cartridges, and vape oil.
Wellness Products
Cannabidiol is becoming an increasingly popular ingredient in existing and new beauty products. These products offer additional benefits to traditional products that help users reduce swelling, aches, and provide other relaxing properties. Simple items such as shampoos and conditioners are now starting to incorporate CBD, along with facial cleansers, bath bombs, lip balm, and even beard oil.
How to Boost CBD Benefits
Combining CBD benefits with other therapies can help enhance your results. As mentioned earlier, CBD can help reduce pain, inflammation, arthritis, insomnia, skin conditions, and much more. Boost these healing properties by incorporating infrared sauna therapy in with your CBD use. Sauna infrared therapy has its own collection of health benefits that pair nicely with CBD therapy. Apply a topical cannabidiol product before or after your sauna session to experience even more relief from your ailments.
The popularization of cannabidiol has led to a number of great products and applications to make the product more accessible and easy to use. With so many health benefits, CBD is a great treatment that can help a number of health concerns. If you have questions regarding whether or not CBD is right for you, speak with your doctor to determine which products to use and how often to take them.