26 Mar, 2020
/
Clearlight Infrared Saunas
/
No Comments
Healthy Mother's Day Activities & Things to do for Your Mom
With Mother's Day on May 10, the holiday is coming up soon and it's crunch time to make sure the day is as special as possible for your mother. This holiday is the perfect time to go all-out and spoil your mom and thank her for all she has done to raise and support you. In the few weeks, use this guide to find Mother's Day activities to do with and for your mom to make her day happy and healthy, from cooking her a meal to giving her the gift of relaxation in an infrared sauna.

6 Things to do with Your Mom for Mother's Day
Explore the City
Take your mom out on the town this Mother's Day! Whether it's your town or a city nearby, exploring the city with your mom gives you a great opportunity to spend quality time together. This activity is secretly healthy, as it gets you outside and walking around. Take advantage of the nice spring weather and plan a day of things to do in the city – shopping, lunch, coffee, or just sightseeing.
Change it up a little by changing your mode of transportation. If available, ride some bikes around to see the city in a whole new way. If walking or biking is too strenuous, try out the scooters available in many major cities.
Get Outside
Along the same lines as exploring your city, an outdoor adventure is one of the best things to do with your mom. There are plenty of outdoor Mother's Day activities that range in skill level. Also, going outdoors is an activity that all family members can enjoy, no matter what age. Either plan a small outing, or invite a large group of your mother's loved ones to make it a special day to remember.
If you're looking for a more leisurely experience, take a nice walk through nature, set up a picnic in the park, or ride a bike. If your mom is a true outdoor fanatic, step it up with some more adventurous activities like hiking or kayaking.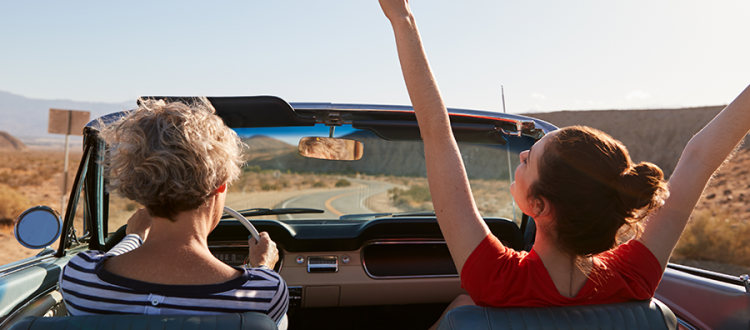 Go on a Trip
Want to venture outside of where you live? Make this Mother's Day special by doing one of the most incredible things for your mom – treat her to a vacation. Whether you take a trip on Mother's day or gift the experience for a later date, research dream destinations for your mom. Traveling to a new place gives your mom the opportunity to stretch her legs in a new setting and explore things that may not be available in her everyday life.
It doesn't have to be an extravagant destination to make it special. Go on a road trip to see some sights in a nearby city, or book an international trip. Either way, you are sure to create special memories along the way.
Have a Spa Day
There's nothing quite like saying "Happy Mother's Day!" like a spa day. Thank your mother for all the hard work and time she put in to raising you by giving her a bit of an escape and some pampering. Book her a day at the spa so she can fully relax this Mother's day. While being a parent is amazing, it can also be stressful. A day of massages, facials, and infrared sauna use can help reduce the stresses of parenthood.
If you want to win Child of the Year, go the extra mile and buy your mom her very own infrared sauna. Then, your mom gets the gift of relaxation (and a number of other sauna health benefits) year-round.

Host a Brunch
After years of having your parents provide meals, it's time to repay the favor this Mother's Day. Brunch is a great way to honor your mom while getting family and friends together. Plan a delicious brunch for your mom and invite her loved ones to spend the day with her. Decorate with beautiful flowers, elegant accessories, and sentimental photos. Choose a few of your mom's favorite breakfast and lunch options to make it an especially special meal.
There are plenty of healthy brunch recipes that are good for your health and your tastebuds. Set up stations like a DIY parfait bar, oatmeal bar, or even a mimosa bar if you want to throw in a touch of unhealthiness this Mother's Day.
Take a Class
Classes are a great way to bond with your mother while picking up a new skill. From cooking classes and exercise classes to pottery classes and art classes, choose a new skill that your mom would be interested in learning. This is a great healthy activity either physically or mentally. This gift is especially nice if your mom is looking for more reasons to get out of the house and socialize.
Try one or multiple things to do with your mom that you can try, and who knows, maybe you'll find a new hobby to start with each other! Once the class is over, take your new skills home and expand upon them.
This Mother's Day, think outside of the box to provide your mom a day she'll never forget with these special things to do for your mom. From a relaxing spa day to adventuring in nature, there is a wide range of healthy Mother's Day activities that will show your appreciation for all she's done to raise you. Happy Mother's Day!