23 Aug, 2016
/
Clearlight Infrared Saunas
/
No Comments
KNOWING YOUR SAUNA: NEAR INFRARED VS. FAR INFRARED HEAT
You've made the wise decision to add a sauna to your home or business, and now it's time to consider the details. What size sauna will best fit you? Where should you place the sauna? What style will fit most elegantly with your existing décor? And, what heat source do you want to use for your new sauna. While that last one seems like a no-brainer, this consideration is probably the single most important element to decide upon before purchasing the sauna. Sauna heat sources can take many forms, but we'll focus on the differences between near infrared and far infrared heating elements, as infrared is truly the new standard in sauna heating systems today.
What Exactly Does Near Infrared Mean?
Near infrared light is contained within the spectrum of natural sunlight. The sun emits nearly half of its total energy in the near infrared (NIR) spectrum. We are biologically wired to use near infrared energy, much like sunlight is needed to produce vitamin D. Our bodies require this energy from sunlight to survive and to thrive.
Near infrared systems are effective at rejuvenating the skin, help raise core body temperature, improve circulation and can provide pain relief.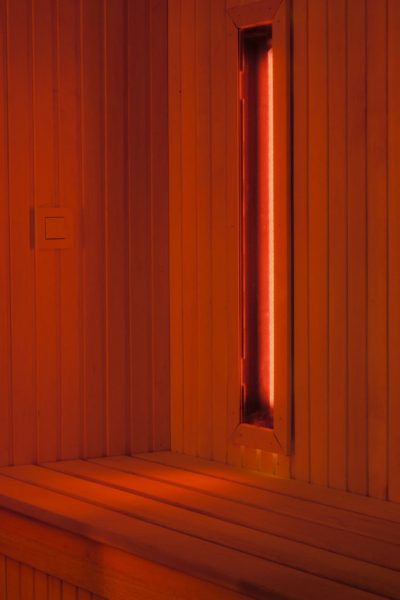 What Is a Far Infrared System?
Far infrared, now considered to be one of the leading heat sources for contemporary therapeutic saunas today operates in a similar manner to near infrared but differs in terms of wavelength. Science aside, the tangible benefits of far infrared are significant, as this system heats the body from within and produces the kind of profuse sweating normally only seen with traditional wet-dry sauna systems.
Most clinicians who recommend infrared saunas for healing or wellness purposes will tout the health benefits of a far infrared system.  The additional benefits of far infrared saunas are detoxification, increasing your metabolism, weight loss and stress reduction just to name a few.
How Do Benefits Compare for Near vs. Far Infrared?
Detoxification
While both near and far infrared systems can detoxify the body, they go about it quite differently. Near infrared systems provide topical relief for skin issues and shallow body pain. The results are often less dramatic than what one would expect to see when using a far infrared system.
Far infrared systems can detoxify the body as much as seven times more effectively than standard sauna units because they produce heavy natural sweating that moves harmful elements out of the body quite quickly and also mobilizes toxins by inducing a fat based sweat.
Relaxation
Many sauna users report relaxation is one of the biggest reasons they purchased their new unit or visit their local sauna. Infrared sauna therapy, especially far infrared heating units, promote relaxation by balancing the body's levels of cortisol – an important hormone in the body that regulates stress.  The infrared heating units help muscles to relax and loosen, and since far infrared wavelengths mimic the body's own emissions, they tend to impart a sense of rejuvenation in most individuals.
Weight Loss
According to an article in the Journal of the American Medical Association entitled Effect of Sweating, researchers discovered a simple half-hour sauna session could burn as many as 600 calories. This study was conducted using an infrared sauna system.
Near infrared saunas effectively raise your core body temperature to help burn calories.  Far infrared saunas stimulate your metabolism, lower cortisol levels and slightly raise HGH to help with weight loss as well.
Due to the fact that far infrared sauna units tend to more effectively increase the body's core temperature and safely increase heart rate, they may burn calories more easily than a near infrared unit or traditional sauna.
Skin Rejuvenation
One of the most exciting benefits of using a sauna is the glowing skin you'll witness after just a few sessions. Two basic things have to happen in order to rejuvenate the skin – improving the body's circulation and eliminating toxins from the pores of the skin.
Saunas, especially those using infrared technology, accomplish both of these. A near infrared system will effectively improve the topical surface of the skin, while the far infrared units help to promote toxin release through profuse sweating. Most sauna users will find that the sweating component helps to cleanse the skin quite effectively, thereby improving skin tone from the inside out.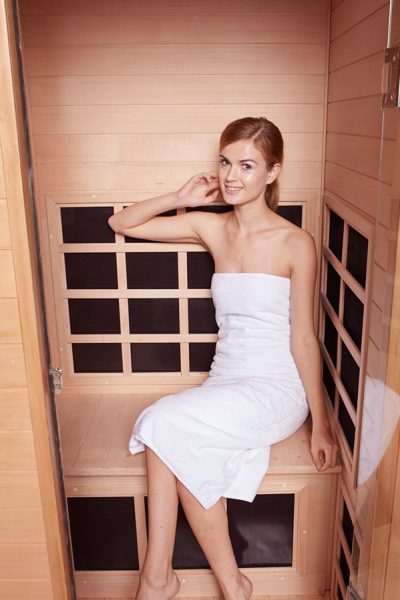 Improved Circulation
While all saunas can therapeutically improve circulation and enhance blood flow to key areas of the body, infrared saunas do an impressive job of boosting circulation, all while keeping the user comfortable. Middle to far infrared heating units penetrate deeply and help to stimulate blood flow, minimize pain, reduce inflammation, and enhance muscle recovery.
Are Near & Far Infrared Saunas Safe?
The answer is – yes! Think about it this way, hospitals use infrared heating lamps to warm newborn babies. Unlike exposing yourself to UV rays from the sun or a tanning bed, you cannot burn yourself with infrared heat. There are no known dangers to using an infrared heat source in your sauna.
As always, you'll want to monitor your body temperature to ensure you don't overheat. Keep adequately hydrated, too. And, check with your doctor to make sure you are medically cleared to use a sauna and that you don't have any preexisting conditions that would make sauna use inadvisable. Saunas are incredibly safe, and infrared units provide real therapy without the oppressive heat of a traditional sauna.
Now that you have a good understanding of near infrared vs. far infrared heat, which sauna type do you feel will serve you best? Near infrared units tend to promote topical healing and mild pain relief quite effectively, but far infrared heating units are incredibly effective at removing toxins, improving circulation, and relaxing the muscles. Most experts agree that if you're really looking to get the maximum therapeutic benefits from your sauna session you'll want to go for a unit that offers all three spectrum.  These are called Full Spectrum saunas and offer near, mid and far infrared.