19 Dec, 2019
/
Clearlight Infrared Saunas
/
No Comments
Seasonal Affective Disorder Symptoms & Treatment
As winter settles in, many people unfortunately feel the winter blues settle in as well. If the cold weather and longer nights seem to be giving you the winter blues, you may be suffering from Seasonal Affective Disorder, also known as SAD. Learn more about SAD symptoms and remedies below.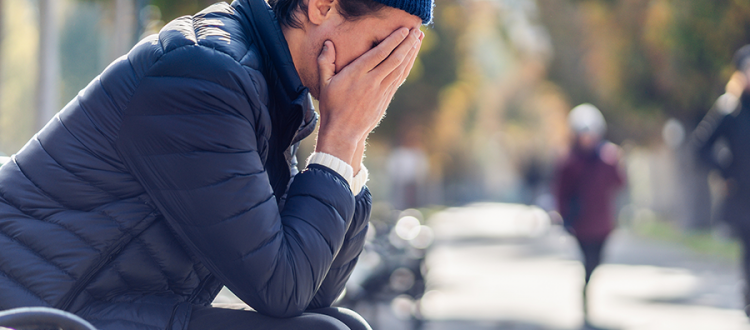 What is Seasonal Affective Disorder?
Seasonal Affective Disorder (SAD) is a type of depression that comes and goes with the seasons, typically starting in the late fall and early winter and going away during the spring and summer. Depressive episodes linked to the summer can occur, but are much less common than winter episodes of SAD.
Some researchers point to the fact that we may be hard-wired to experience the symptoms of Seasonal Affective Disorder due to early human's need to conserve energy during the food-scarce winter months. A lack of food and substantially colder temperatures may have caused our ancient relatives to go into a sort of hibernation mode, where a low mood and lack of desire to complete tasks may have been a life-saving temperament.
Other researchers talk about the depression that comes from the amount of serotonin in our systems. Melatonin production is essentially regulated by our circadian clocks, but it can be affected by exposure to bright light. Seasonal Affective Disorder is, by most accounts, a direct correlation to the amount of light we're exposed to, and at what specific duration.
Seasonal Affective Disorder Statistics
SAD is diagnosed four times more often in women than men.
SAD is more frequent in people who live far north or south of the equator. For example, one percent of those who live in Florida and 9 percent of those who live in New England or Alaska suffer from SAD.
People with a family history of other types of depression are more likely to develop SAD than people who do not have a family history of depression.
The symptoms of depression may worsen with the seasons if you have one of these depression or bipolar disorder (but SAD is diagnosed only if seasonal depressions are the most common).
Younger adults have a higher risk of SAD than older adults. SAD has been reported even in children and teens.

Seasonal Affective Disorder Symptoms
Do the winter months get you down more than you think they should? If so, you might have seasonal depression, also known as seasonal affective disorder (SAD). Seasonal Affective Disorder (SAD) is not considered as a separate disorder, instead it is a type of depression displaying a recurring seasonal pattern. People with SAD have many of the normal warning signs of major depression.
Symptoms of Major Depression
Feeling depressed most of the day, nearly every day
Feeling hopeless or worthless
Having low energy
Losing interest in activities you once enjoyed
Having problems with sleep
Experiencing changes in your appetite or weight
Feeling sluggish or agitated
Having difficulty concentrating
Having frequent thoughts of death or suicide.
Symptoms of Winter-Pattern SAD
Low energy
Hypersomnia
Overeating
Weight gain
Craving for carbohydrates
Social withdrawal (feel like "hibernating")
Symptoms of Summer-Pattern SAD
Poor appetite with associated weight loss
Insomnia
Agitation
Restlessness
Anxiety
Episodes of violent behavior

Seasonal Affective Disorder Treatment
Infrared Sauna Use
Many of today's better saunas come equipped with built-in lights that are designed to deliver a calming and therapeutic effect. This process of light therapy for SAD is called chromotherapy, and refers to the use of lights to create changes in mood in the person using the sauna. If you find that Seasonal Affective Disorder is a reality for you or a loved one, try to find time to get in an infrared sauna with LED color lights that can help in a variety of ways.
Light Therapy
Light therapy has been a mainstay of treatment for SAD since the 1980s. The idea behind light therapy is to replace the diminished sunshine of the fall and winter months using daily exposure to bright, artificial light. Symptoms of SAD may be relieved by sitting in front of a light box first thing in the morning, on a daily basis from the early fall until spring. Most typically, light boxes filter out the ultraviolet rays and require 20-60 minutes of exposure to 10,000 lux of cool-white fluorescent light, an amount that is about 20 times greater than ordinary indoor lighting.
Medication
Selective Serotonin Reuptake Inhibitors (SSRIs) are used to treat SAD. The FDA has also approved the use of bupropion, another type of antidepressant, for treating SAD. As with other medications, there are side effects to SSRIs. Talk to your doctor about the possible risks of using this medication for your condition. You may need to try several different antidepressant medications before finding the one that improves your symptoms without causing problematic side effects. Speak to a doctor if you believe you need medication for SAD treatment to find the right prescription for you.

Psychotherapy
Cognitive behavioral therapy (CBT) is a type of psychotherapy that is effective for SAD. Traditional cognitive behavioral therapy has been adapted for use with SAD (CBT-SAD). CBT-SAD relies on basic techniques of CBT such as identifying negative thoughts and replacing them with more positive thoughts along with a technique called behavioral activation. Behavioral activation seeks to help the person identify activities that are engaging and pleasurable, whether indoors or outdoors, to improve coping with winter.
Vitamin D
At present, vitamin D supplementation by itself is not regarded as an effective SAD treatment. The reason behind its use is that low blood levels of vitamin D were found in people with SAD. The low levels are usually due to insufficient dietary intake or insufficient exposure to sunshine. However, the evidence for its use has been mixed. While some studies suggest vitamin D supplementation may be as effective as light therapy, others found vitamin D had no effect.
If you feel you are suffering from seasonal affective disorder, speak with a doctor. While you can try infrared sauna use, light therapy, and increasing vitamin D levels on your own, a proper diagnosis and potential further SAD treatment may be necessary. Don't suffer through the seasons!