30 Jan, 2020
/
Clearlight Infrared Saunas
/
No Comments
Smart Home Tech to Upgrade Your Wellness at Home
From smart refrigerators to mirrors that assist with workouts, there are plenty of health and wellness gadgets you can add to your home. Everything is becoming more and more connected, so why not connect the comfort of your home with the importance of your health? Find some of our favorite smart home tech below to transform your house into a true wellness sanctuary.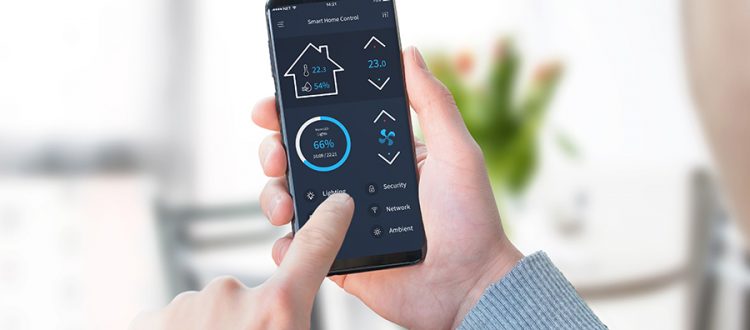 Home Health and Wellness Gadgets
Air Purifier
One thing you may not think about often, but plays a huge role in your health and wellness at home, is the quality of air in your house. Smart air purifiers have been upgraded to not only clean your air more thoroughly and efficiently, but they now connect easily to your WiFi as well. This connectivity allows you to use voice assistants for easy voice commands. It also allows you to monitor air quality stats from your phone, check filter status, and adjust timers, fan speeds, and more.
Bluetooth Scale
Weighing yourself at home has never been so engaging. A bluetooth scale is a great smart home tech addition for anyone looking for a more comprehensive look into their health, especially if you are tracking multiple measurements. Smart scales connect to your phone via Bluetooth to automatically track stats such as weight BMI, bone mass density, body water percentage, and body fat percentage in an app. Some apps also allow you to set and track goals.
Electric Toothbrush
A toothbrush might not be the most exciting of the health and wellness gadgets on this list, but it is definitely a good one to have. Regular toothbrushes aren't as efficient as electric ones, and electric toothbrushes only get better when you add in smart tech. Along with a 2-minute timer, smart toothbrushes also include apps that guide you on where to brush and for how long based on the cleanliness of your mouth for a more efficient and effective cleaning.

Source: Mirror
Fitness Mirror
With so much fitness tech on the market, it's always refreshing to see something a little out of the ordinary. A fitness mirror is a full-length mirror with a built-in display to watch your form while watching workouts on the mirror itself. The screen is controlled by an app on your phone to access classes from the class membership that comes at an extra cost. While the tech is on the pricey side, it's a perfect smart home piece for those looking for enhanced workouts at home.
Float Tank
This item certainly tops the list in terms of price and extravagance, but if you have the budget and space, a personal float tank is the way to go. Float tanks have been one of the biggest health and wellness trends in the last couple of years. Having this technology in your home will allow you to feel the benefits of floating in a sensory deprivation tank – such as stress relief, increased healing, and improved mental state – whenever you please.
Food Analyzer
Whether you have a food allergy or are just looking to track how your body reacts to certain foods, smart food analyzers are becoming more prevalent on the market. These health and wellness gadgets are helpful both in and out of the house. By using gases in your breath after eating, food analyzers can detect if a recently-eaten food contains peanuts or gluten, if it affects your keto diet, and if it will be easily digested or not.

Source: Elephant Journal
Infrared Sauna
One of the best ways to practice wellness at home is with an infrared sauna. When a daily 20-minute session brings health benefits like reduced stress, detoxification, weight loss, and pain relief, infrared sauna use is an easy and effective way to improve your health. On top of the regular health benefits, you can boost your infrared experience with enhancements such as chromotherapy, halotherapy, and LEDlight therapy to make your house a true sanctuary.
Programmable Shower
Taking the perfect shower can be one of the most amazing feelings. Programmable showers allow you to perfect your shower experience. From setting the ideal temperature to getting a warning that you are getting close to a shower time limit, these showers are great for both the user and the environment. Some smart shower systems even allow you to control the shower vian an app to ensure the water is just right before you step in.
Sleep Sensor
Chances are, you aren't getting enough sleep. Even if you're getting the hours in, many people suffer from irregular or interrupted sleep patterns that lead to low-quality sleep. If you're looking for a more restful sleep, a sensor might be what you need. Sleep sensors are placed on or under your bed to track the movement and sound that take place in your sleep. Data is then recorded in an app to track sleep quality and indicate factors that may be contributing to sleep issues.

Source: Samsung
Smart Refrigerator
Many people spend a good amount of time in the kitchen, from cooking to spending time together. With so much time spent in this room of your house, it only makes sense to have some of your smart home tech in the kitchen as well. New smart refrigerators hitting the market have been upgraded to become a hub for home life. You can now control voice assistants, check the doorbell, and even see what's inside your fridge at any time to easily take inventory.
Touchscreen Treadmill
As mentioned above, smart fitness tech has been on the rise. Many people are starting to build up their home gym filled with smart home tech that allows them to have personalized classes in the comfort of their home. From stationary bikes to treadmills, there are plenty of options on the market. Smart treadmills take indoor running to the next level, changing the stationary run into a more exciting one with programmable training routes such as running the Boston Marathon.
Voice Assistant
Voice assistants are the classic smart home tech. So many different devices connect to voice assistants, from your air purifier to your programmable shower. Because of this, voice assistants are one of the most important gadgets for health and wellness. On top of creating a connected household, the automation from these devices gives us time back into our days, and even just a little time back means for less stress and increased happiness.
Start creating the house of your dreams that allows you to improve your wellness at home with smart home tech. Not only does it simplify your life, it also helps you create a happier and healthier lifestyle. Investing in your health means investing in your future, and these health and wellness gadgets are a great way to start.