18 Oct, 2017
/
Clearlight Infrared Saunas
/
No Comments
SUPPORTING BREAST CANCER AWARENESS MONTH 2017
October marks Breast Cancer Awareness Month, a month dedicated to the awareness and prevention of the disease. Breast cancer is the second most common type of cancer in women with as many as one in eight women diagnosed with the disease at some point in their life. The earlier it is detected, the faster and more likely it is that the patient will make a full recovery. Breast Cancer Awareness Month was created to make women aware of the importance of early detection, give women the tools they need to perform self-tests and raise funds for breast cancer research.
What began in 1985 as a modest campaign between the American Cancer Society and a pharmaceutical division of Imperial Chemical Industries has blossomed into an annual worldwide campaign. Breast Cancer Awareness Month has grown rapidly in size since its inception as events, fundraisers, races, and walks were established to raise awareness. These events include Breast Cancer Today, The National Race for the Cure, and Susan G. Komen 3 Day 'For the Cure'. In the late 80s and early 90s, the pink ribbon started appearing to commemorate those who had been affected by breast cancer and eventually organizations established this as the official symbol of breast cancer.
Now, Breast Cancer Awareness Month is one of the largest such campaigns and encourages people around the world to get involved by educating themselves, spreading the word about mammography and early detection, and fundraising for breast cancer research.
How Can You Help Support Breast Cancer Awareness Month?
If you are looking to get involved and support Breast Cancer Awareness Month, there are plenty of things you can do to spread awareness and contribute to the cause. These include the following:
Educate Yourself and Others
If you want to educate others about the importance of early detection, download this free Breast Health Guide, share resources on social media, and ask friends and family to do their own research on breast self-tests and mammography. Other sources of education are in-person training sessions and online training modules.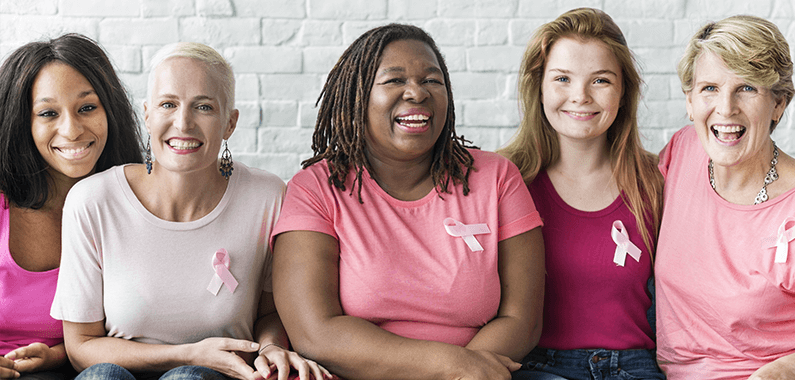 Host and Participate in Fundraisers
Fundraisers can be a great way to connect with others about breast cancer awareness and raise money for the cause. In-person events can be beneficial for a more personal connection while online fundraisers are great because you can reach more participants.
Donate
If you want to participate in raising money for breast cancer research but you do not have the ability to donate your time, a one-time donation is a great option.
Participate in Events
Donating your time and money to Breast Cancer Awareness Month is a great way to do your part in spreading awareness about early detection and supporting researchers in finding a cure. Events you can get involved in during Breast Cancer Awareness Month include the following:
• American Cancer Society – Making Strides Against Breast Cancer
• Avon – The Walk to End Breast Cancer
• Party in Pink by Zumba
• Susan G. Komen 3 Day Walk
• Susan G. Komen Race for the Cure
The Benefits of an Infrared Sauna
Breast Cancer Awareness Month also raises money for alternative cancer medicine research and prevention research. Infrared sauna health benefits affect the entire body and promote overall wellness. Benefits of an infrared sauna that promote a healthy body include:
Toxin Elimination
Heavy metals and chemicals can build up and live in parts of the body that are not flushed out regularly. An infrared sauna helps detoxify every part of the body on a cellular level so that these unwanted substances are eliminated through sweat.
Organ Detoxification
Infrared sauna technology naturally draws the blood towards the surface of the body, which promotes the decongestion of internal organs. This detoxifying movement of fluids helps to rejuvenate any tissue that may have been stagnant or holding onto chemicals or hormones.
Improved Circulation
The improved circulation provided by an infrared sauna helps to pump in fresh new blood to nourish and replenish all parts of the body.
Skin Rejuvenation
The inactivity of sweat glands due to lack of sweating can cause your body to hold onto waste and toxins that should have been released. The resulting sweat of infrared sauna use helps your body to cleanse its largest organ and flush out any toxins that may have been stored beneath the skin.  The soothing heat of an infrared sauna penetrates deep into the body to eliminate these toxins from the inside out, leaving you feeling refreshed, healthy, and happy.
Breast Cancer Awareness Month is about awareness, early detection, and education. Taking steps to educate yourself about the disease and the ways to fight and prevent it is a great way to participate and do your part.  Knowing how to detect and help the body fight off cancer cells is beneficial to you while spreading that information to those around you is beneficial to the cause as a whole.