22 Nov, 2018
/
Clearlight Infrared Saunas
/
No Comments
WORKPLACE WELLNESS IDEAS FOR WORK, LIFE & PERSONAL BALANCE
Workplace wellness has been a growing trend for businesses as management realizes the benefits of having happy, healthy employees. Additionally, people are increasingly putting a larger emphasis on working with companies who invest in employee development, work-life balance, and personal wellness. Because of this, today it is more important than ever to create a positive, healthy atmosphere in the office to encourage new hires and ensure current employees feel appreciated.
If you are an employer, discover how to keep your workplace feeling refreshed with workplace wellness programs that include meditation sessions, physical activity, standing desks, time outdoors, and more. If you are an employee, find easy office ideas and tips to do your part in promoting wellness in the workplace.

For Employers: Workplace Wellness Programs
Promoting a healthy lifestyle in your company will not only result in healthy employees, it'll result in happy and more productive employees, as well! Studies show that employees who participate in workplace wellness programs regain an additional 10.3 hours of productivity annually. On top of that, healthy employees means fewer sick days.
Try incorporating these four healthy scenarios to increase wellness in the workplace:
Schedule a Weekly Meditation Session
It is no secret that mental health plays a large role in mood, productivity, and even physical well-being. Supporting your employees' mental health is especially important in today's hectic world. Meditation is a powerful tool to find balance and help clear the mind of negative thoughts and instead focus energy on a positive and relaxing outlook.
Scheduling a company-wide meditation once a week will help everyone feel more centered and prepared to take on the remainder of the week. Meditation sessions can include guided and sound meditations – many of which can be found on YouTube. Choose a time when meetings are light and office mood starts to hit a wall in order to revitalize the workplace.
Plan Outdoor Team Outings
Being cooped up in an office all day, staring at a computer screen, and getting little to no physical activity can make it difficult to stay motivated and focused. Getting fresh air and some Vitamin D have been shown to have many health benefits, from boosted mood to increased energy. Help get employees moving by scheduling outdoor team outings.
This can be done by creating calendar invites for short, 5-minute walks around the building every couple of hours. Not only is this an opportunity to get fresh air and a few extra steps in, it is also a natural way to get to know your team a little better. Have a packed schedule but still need fresh air? Get out of the conference room and start doing walking meetings.

Set Up Standing Desks
One of the most popular recent workplace wellness trends is the standing desk. While the initial claims of weight loss may have been blown out of proportion, as standing only burns approximately 8 more calories an hour than sitting, there are still many benefits to standing while you work.
Sitting for prolonged periods of time has been linked with higher risk for health conditions such as diabetes, obesity, cancer, and cardiovascular disease, and breaking up the day by standing can help decrease risk. While standing all day might not be preferred by all, setting up a standing desk station provides those who want to stand an opportunity.
Invest in a Workplace Wellness Center
If space and money permit, investing in a workplace wellness center for employees is a great step toward investing in their health. An office gym with an infrared sauna to use after a long work day or during the lunch break is great for employees who want to sweat out the stress and tensions of sitting at a desk all day.
If a gym is out of reach for your situation, a quiet area with a massage chair and healthy snacks is also great way to invest in your employees' wellness. Other cost-effective and space-saving solutions are corporate gym memberships to allow employees to use a gym at a discount and simply hosting activities such as 5-minute abs or yoga in a conference room.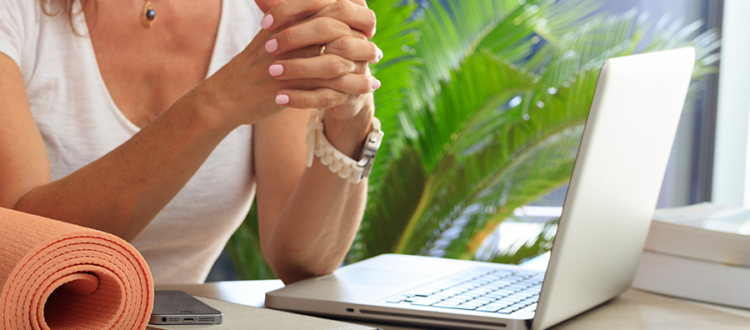 For Employees: Workplace Wellness Tips
Working in an office that promotes a happy and healthy environment with workplace wellness programs is ideal, but what if your company still isn't there yet? Luckily, there are plenty of things you can personally do on your own to promote wellness in the workplace in the meantime!
Keep up your own personal wellness while in the office with these workplace wellness ideas:
Get Up to Stretch
Let's face it: You aren't doing your body any favors by sitting all day and staring at a screen. Most likely, you're not properly set up with back support for sitting with perfect posture. Extended sitting has been shown to increase your risk for mortality. The simple solution: Get up and move.
Stretching, whether simple 3-minute stretch breaks every hour or longer walks to stretch your legs, has been shown to improve posture, increase blood flow to muscles after being sedentary, prevent back pain, and even decrease tension headaches – all things very important to keep your body in top-shape at the office.
Stay Hydrated
Between meetings and projects, remember to drink your daily recommended amount of water. The average recommended water equation is bodyweight ÷ 2 = ounces of water per day. For example, someone weighing 150 pounds should aim to drink 75 ounces of water daily with a moderate lifestyle.
Staying hydrated helps increase mood and energy levels, improve brain function, decrease headaches, and more. If going back and forth to the break room to fill up a small cup is too tedious and discouraging you from drinking water, get a large reusable water bottle or a carafe for your desk to help both the planet and your hydration!

Have a Healthy Diet
The office break room can be a snacker's paradise, filled with easy-to-grab food like chips and sodas. It's easy to fall into the trap of mindlessly snacking on these unhealthy treats when you are focused on a project at work. Combat this by bringing in your own healthy treats, such as baby carrots and hummus or an apple, to keep your mind off of the chips.
Healthy snacks keep you full longer, give your more energy to avoid the post-lunch crash, and provide better nutrition – which means your body is filled with more of the good stuff to protect you from workplace germs when office cold season arrives.
Be Social
As mentioned previously, mental health plays a large role in overall health. While some find solace in not socializing constantly, human interaction has been proven to reduce the risk of depression and improve both mental and physical health. Socializing while working can bring a positive attitude to the overall wellness in the workplace.
Not all companies are keen on talking during work, and depending on your type of work, finding time to socialize may be difficult. If you work in a stricter workplace, schedule coffee breaks with your colleagues, make time for a lunch break with friends, or schedule weekly or monthly happy hours to get to know your coworkers better.
Whether you're an employer or an employee, there are many steps you can take to contribute to wellness in the workplace. Putting a bigger emphasis on work-life balance and creating a healthy and happy atmosphere will make your work days just that much happier, more productive, and efficient. Follow these workplace wellness ideas, and get your company on the right track toward health!