UPGRADE YOUR JACUZZI® SAUNA EXPERIENCE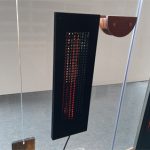 Add an additional 300 watt full spectrum heater to any Sanctuary™ or Premier IS sauna models. This 24″ x 7″ heater is mounted on the interior of the door. The heater includes a textured mesh heater guard and plugs conveniently into a built-in receptacle.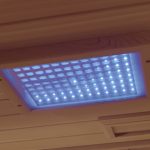 MEDICAL GRADE CHROMOTHERAPY
All Clearlight Premier™ Saunas can be upgraded to have Medical Grade Chromotherapy, which offers 96 LED Lights, 12 color settings, and comes with a handheld adjustable brightness control.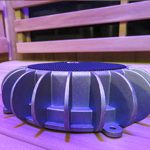 VIBRATION RESONANCE THERAPY (VRT)
All Jacuzzi® saunas can add Vibrational Resonance Therapy (VRT.) VRT combines the benefits of sound and vibration relaxing your body and mind. The VRT modules attache to the bottom of the sauna bench. While the amplifier is situated underneath as well.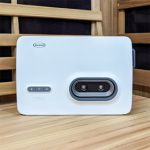 Installing a Jacuzzi® HALO ONE Halotherapy Generator can turn any Jacuzzi® sauna into a healing salt cave.The conditions of heat and humidity in our infrared saunas are perfect for salt therapy.The liquid salt aerosol is distributed evenly giving the optimal salt concentration for healing.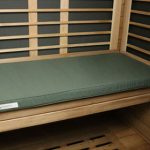 Add an extra layer of comfort to your sauna session with our custom made bench cushions. This 2″ thick, waterproof and mold resistant cushion is made to fit the exact dimensions of your sauna bench model.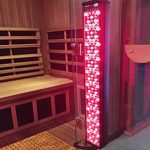 Jacuzzi® Light Therapy concentrates its powerful medical-grade LEDs to deliver healing power on targeted areas of the body. Red and near infrared wavelengths stimulate the mitochondria, turning it into usable energy.