24 Sep, 2020
/
Clearlight Infrared Saunas
/
No Comments
Getting a Home Sauna: Where to Put a Sauna in the House
Getting a sauna for your home is an exciting addition to your home health regimen. But before you can use it, you need to figure out the best place for it to go! Indoors or outdoors, large or small, DIY or prebuilt – there are a lot of considerations to think of when it comes to preparing for your home sauna! These tips below will help you determine the best spot in your home to enjoy your new sauna.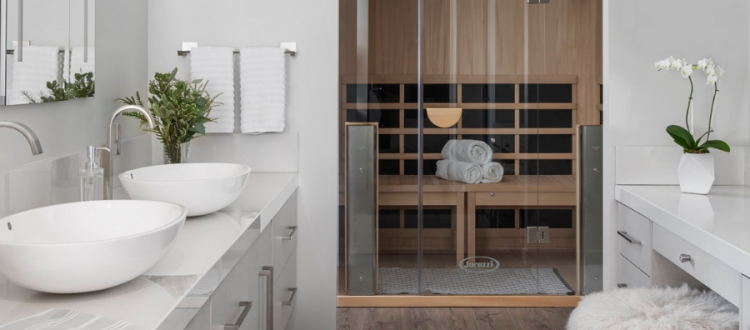 Why to Put a Sauna in the House
While many spas and gyms offer access to saunas, that access is unfortunately not always guaranteed. From saunas being too full with other users or spas and gyms simply being closed, there are a few things that might hold you back from using a public sauna. With a home sauna, however, you have total freedom in sweating whenever and however you want. Having a sauna in the house gives you the opportunity to have your very own health and wellness tool tailored to your needs.
Some home infrared sauna health benefits you can enjoy at any time include:
Weight Loss & Increased Metabolism
Temporary Muscle Pain Relief
Better Sleep
Detoxification
Decreased Appearance of Cellulite
Eased Joint Pain & Stiffness
Reduces Stress & Fatigue
Improved Skin Conditions
Along with the health benefits above, infrared sauna use has also been shown to help enhance workout performance, create an environment for mindfulness, and provide a sanctuary at home. Whether you're considering a sauna in the house for on-demand spa days or for reaping the long-term benefits of daily use, a home sauna is sure to help you meet your health and wellness goals.
Choosing the Right Home Sauna for You
Outdoor vs Indoor
Outdoor Sauna: Outdoor saunas of course require an outdoor space. Choosing an outdoor sauna is perfect for those with backyards – especially if a pool is nearby for a quick dip after a sauna session. Things to take into consideration with an outdoor sauna include space, proximity to a power source, privacy, and potentially a structure to help protect the sauna exterior from natural elements.
Indoor Sauna: Indoor infrared saunas are becoming increasingly popular as they provide luxury and health benefits right in the comfort of your own home. No matter where you live, you can likely make an indoor sauna fit in your space. From placing one in the corner of a small apartment to having an entire room dedicated to sauna use, choosing an indoor sauna allows for a range of options for everyone (and every space) to enjoy.
Large vs Small
Large Sauna: Large saunas are the epitome of luxury, but they do require extra space in your home. If you plan on having more than three users at a time or want extra space for activities like hot yoga, dedicate the extra space to have a home sauna of your dreams. Outdoor spaces typically lend themselves to more space for a large sauna, but you can also place one in your home if you have a large, open area.
Small Sauna: Small saunas are great for single-person use or areas tighter on space. The size of small saunas make them incredibly versatile, fitting in bedrooms, bathrooms, small yards, or anywhere else you desire. If you have a 4' by 4' space in your home, you can likely fit at least a one-person sauna. While smaller saunas don't allow for group sessions or hot yoga, they still offer all the same health benefits as a large sauna.
Prebuilt vs Build-Your-Own
Prebuilt Sauna: A prebuilt sauna is a great option for people who want a simple installation. You still get all the bells and whistles of an infrared sauna, but without the planning! These saunas come in many sizes and can be placed anywhere inside or outside where there is a stable, flat surface and room for ventilation. Prebuilt saunas only require light assembly and are ready to go once you have them connected to a power source.
Build-Your-Own Sauna: Building your own DIY sauna is always exciting, as you can customize it to be exactly what fits your needs. These saunas take a higher level of planning, as they require careful calculations and measurements so they can fit seamlessly into your home. Building your own sauna is great for creating an at-home spa experience that perfectly fits your home decor. DIY saunas are more popularly done indoors and in bathrooms or pool houses.
Placement Considerations for a Home Sauna
Use the Right Flooring Materials
If building your own sauna, the most suitable floors are made of plastic, ceramic, exposed concrete, or stone. The floor should be sound and heat insulated. If, however, you decide to use a premade home sauna, the flooring is already designed with premium cedar or North American basswood that hold up to regular infrared sauna use. Premade saunas can be placed on nearly any surface as long as it is level and sturdy.
Try to Place Near a Shower or Pool
Traditionally, people jumped from the hot sauna to frozen waters. For you, jumping into a pool right after a home sauna session can replicate that refreshing feeling. If your layout allows for it, make the transition between sauna and pool an easy one and have them close. If you do not have a pool at home, a refreshing shower achieves the same effect! Install your sauna in a bathroom for quick and easy access to a shower that will help you feel fresh after.
Have Access to Adequate Power
For infrared sauna use, you will need access to a 240-volt connection. While plugging in a prebuilt home sauna should be simple, especially for indoor use, be sure to double check your connections and contact an electrician if any concerns or issues arise. When building a DIY sauna, involving a licensed electrician in the process will help ensure safety for prolonged use. Ensure the wiring for your sauna is clear of any water or any other hazardous conditions.
Be Wary of Moisture Levels
Make sure there is adequate drainage around the base of your home sauna so water cannot pool around the base of the sauna. It is also important to consider the humidity levels of the area of your choice, as an environment that is too damp may affect materials over time. Additionally, while our outdoor saunas are constructed with engineered wood on the exterior, too much exposure to natural elements over a prolonged period may impact the exterior of your sauna.
Having a sauna in the house is sure to make every day feel a little more luxurious and a lot healthier. Whether you're looking to improve your health or simply create an at-home spa experience, take the above tips into consideration to ensure your home sauna is exactly what you need!