10 Sep, 2020
/
Clearlight Infrared Saunas
/
No Comments
Staying Healthy with At-Home Activities for Adults
It is no secret that staying home for days, weeks, and even months can get pretty monotonous. But you can shift your mindset from being "stuck" inside by keeping yourself occupied. Since we can't change the current situation, it's better to focus on how we can work to make the best of it. Being at home actually allows you to focus your time and attention on things you may not have pursued otherwise, such as taking some time for yourself with a spa day or finally starting on a home project that has been on your to-do list. Read on to find some at-home activities for adults that will keep you stimulated, productive, healthy, and happy.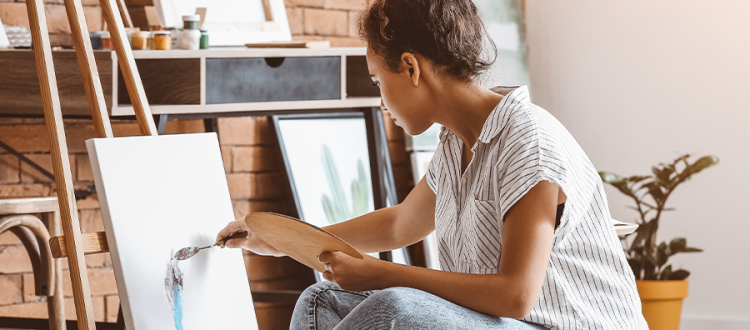 Healthy At-Home Activities for Adults
Fun Things to Do at Home
As many have shifted into a work-from-home situation where home and business are always connected, it is now harder than ever to differentiate between when work ends and play begins. It is very important for your overall happiness to make some dedicated time to rest and enjoy life. Try out these at-home activities to keep your days lighthearted and fun:
Pick up a new creative project: Even if you aren't the "crafty" type, crafting can be a great way to get your brain working in new ways. Painting, photography, graphic design, writing, playing music, and building are all great outlets for some of that pent-up creativity. At the end of it, you'll maybe even find a new favorite hobby.
Plan video calls with loved ones: Staying in contact with loved ones is a great way to stay social when you are at home. Every week, schedule a call with someone new to check in and see how they are doing. Planning a large group call with friends or family can also give you a fun event to look forward to every week.
Schedule a movie night: Binge watching shows is surely one of everyone's most popular at-home activities during these times, but what about having a dedicated movie night? Make this night special with movie snacks, a cozy setting, and a movie you've been wanting to see. You can even host a watch party with distant friends!
Break out the board games: Board games are definitely having a revival right now. As more time is spent at home, more time is available for putting in the time to learn and play new board games. Play with members of your household, or put on a game night with your bubble to really test your skills (and your relationships).
Have a picnic: Whether it's in your backyard or on your living room floor, doing a themed meal like a picnic can make dining a little more exciting. Make and pack up all your favorite picnic foods in a basket, lay a blanket on the ground, and have a picnic right at home. If you have a bubble to enjoy it with, make it potluck-style!
Treat yourself to a spa day: This time is a bit stressful for everyone, and the tension builds up in the body. Get rid of this discomfort by treating yourself to an at-home spa day! Destress in an infrared sauna, soak in a bubble bath, put on a face mask, and dedicate a good hour to yourself to unwind and take a break.

Healthy Things to Do at Home
Getting stuck in a rut happens quickly when you aren't being healthy at home. Home life can certainly be a bit slower-paced than actively going out and doing things, but don't let that be an excuse to push your health to the side. Instead, try these healthy at-home activities to keep your body and mind in shape while spending time in the house:
Invest in your health: Being healthy doesn't have to require money, but it can definitely be worth it to invest in bigger-ticket items that can take your health to the next level. From infrared saunas to exercise machines, find equipment that inspires you to continue to stay healthy at home.
Try a new recipe: More time at home means less time eating out, so it's the perfect time to get more acquainted with your kitchen! Look up recipes to add into your mealtime and learn a new trick or two. Use this as an opportunity to learn more about the ingredients you are using and to try new things.
Experiment with new workouts: Keep your days interesting by switching up your fitness routine. Not only will this keep you from getting bored with working out, it also ensures that you are targeting different areas of your body for more well-rounded fitness.
Make a meal plan: Planning out your meals ahead of time can help you save time and eat a healthier diet. By preparing your meals ahead of time, you only need to dedicate one day to cooking. Planning meals for your week also makes you more aware of the ingredients you are using and the portions you are eating.
Explore outlets for mental health: A large part of your health is your mental health, especially during this time. Find ways to express yourself and address your emotional wellbeing by finding outlets such as meditation, speaking with friends, or trying therapy.
Take some time outside: While this isn't technically a healthy "at-home" activity since you'll be outside, it is still an important thing to consider when spending more time at home. Getting some fresh air, movement, and sun can help break up all the time spent inside and help you feel more invigorated and healthy.

Productive Things to Do at Home
While not as fun as some of the other at-home activities, being productive and getting work done is one of the best things to do when spending more time at home. These ideas require some extra work, but the end results will leave you feeling accomplished, efficient, and at peace knowing your life is on the right track.
Organize an area of your home: With all this time at home, you're sure to have become more aware of where things are and how they're organized. Set aside some time to focus on an area of your home to organize and rearrange. If organizing isn't your favorite activity, try to only do one area in a day to avoid burnout.
Gather items for donation: Not only is this activity a great way to organize your items and clean out things you no longer need, it is also a great way to give back to those who may be in need. Spend some time going through your kitchen, closet, or storage and make a donation pile to bring to a local donation center.
Do a deep clean of one room: Similar to organizing a room, this at-home activity will help boost the enjoyment of being in your space for extended periods of time. Choose one room at a time to do a deep clean – dust, sweep, vacuum, scrub whatever you need to do to keep your home feeling refreshed and enjoyable.
Plan your budget: Taking a look at your budget isn't the most fun at-home activities for adults, but it is a necessary one. We have seen the importance of being aware of your finances and planning for the future. Go through your recent transactions, forecast your future spending, and make sure your budget is on the right track.
Start a home project: Starting a home project may be daunting and seemingly time-consuming, but when you're spending more time at home, it's much easier to fit it into your daily life. Cross something off of your home improvement list and get started on a project that you can chip away at.
Learn a new language: Unfortunately, travel isn't as easy to do right now, but you can still get a taste of other cultures by learning a new language! There are many languages and programs to choose from to help get you started, and hopefully you can use your new skills soon out in the world.
Being in your house doesn't mean you're stuck, it simply means you now have more opportunities to try these at-home activities for adults. Stay happy, healthy, productive!