11 May, 2018
/
Clearlight Infrared Saunas
/
No Comments
YOUR STRESS-FREE TRIP PLANNER TO AVOID VACATION FATIGUE
Vacation Fatigue
\vā-ˈkā-shən ˌfə-ˈtēg\ · [vey-key-shuhn fuh–teeg]
noun
The feeling of exhaustion from planning, taking, and recovering from a vacation.
Taking vacations is a wonderful thing! From taking a break from everyday life to bonding with friends and family, there are many benefits to taking a vacation – but getting there can sometimes be a hassle. Planning a trip involves a lot of moving parts, and it can be easy to get caught up in the stress of it all. Unfortunately, this trip-planning stress often brings travelers vacation fatigue even before they take the trip.
Before you plan your trip, it's important to take a few factors into account for the sake of your sanity and future relaxation. Use these helpful vacation planning tips to make sure your next trip is stress-free and fully enjoyable!
Stress-Free Trip Planning Tips
Set a Goal for Your Vacation
There are many reasons to take a vacation. Whether you're looking for peaceful relaxation or adventurous exploration, setting a goal for your trip is important. While exploring the streets of the city alone may be exciting to some, others may enjoy the ease of a tour guide better. If trip goals vary, it's better to learn that early on so you can plan excursions that appeal to everybody and avoid unhappiness during your vacation.
Do Thorough Research
Once you have decided on a goal, you can research where you'd like to travel. For example, are you wanting a destination where English is spoken? Are you willing to do currency exchanges? Do you have time to get required documentation such as passports or visas? If you dislike crowds of tourists, what are peak-seasons? Doing your research beforehand will ensure you're confident in your vacation destination!
Organize Your Travel Documents
Plane tickets, hotel reservations, metro passes, oh my! Planning a vacation requires many documents to keep track of. Keep a physical trip planner that holds important documents such as tickets, reservations, and legal documentation such as passports. Additionally, many travel apps are available to help organize all your documents in one place, such as TripIt and Google Trips. If going the digital route, still have a physical backup in the event of technology going awry.

Keep Your Itinerary Flexible
Trying to cram a lot of activities into your trip itinerary can leave you feeling rushed and stressed. Plan your trip with leisure time in mind. While it's wonderful to have some excursions lined up, not having a strict schedule will allow you to enjoy the activities even more. One way to avoid being too booked while still doing all the things on your to-do list is to plan a longer trip. Planning a vacation 10 days or longer is ideal, as it gives you enough time to do activities while acclimating to your destination.
Take a Break from Trip Planning
A big culprit of vacation fatigue is not giving yourself a break from trip planning. While it can be exciting to constantly check weather updates, plan your outfits, and research new excursions for your trip, you don't want to become mentally exhausted from your trip before you go. Sometimes the constant thinking of a trip can make it feel less like excitement and more like work. If you plan your trip and feel overwhelmed, take a mental break. Try winding down by relaxing in a sauna or meditating.
Square Things Away at Work
Nothing is less relaxing than constantly answering work emails while on vacation. It's hard to enjoy the city lights or the waves on the beach when you're worried about what's going on in the office. Instead, make sure you have a work vacation plan set up. Give your boss and coworkers plenty of information of when you'll be out, for how long, and how they can reach you – IF they can reach you. Make sure all your deadlines are met before leaving and have a strategy outlined in the event of something urgent happening in your absence.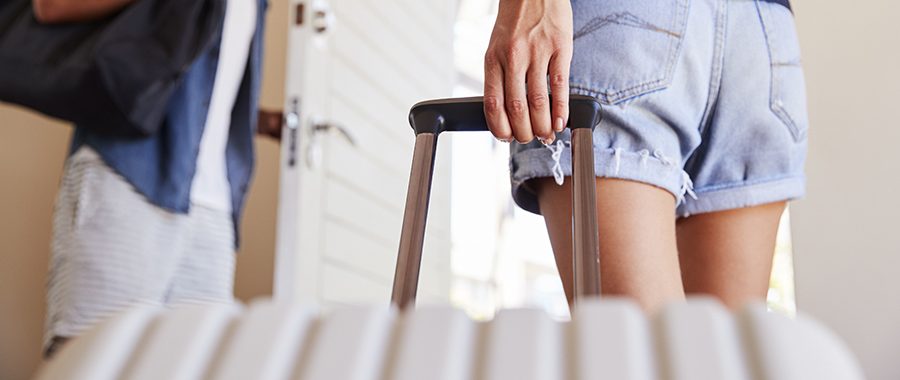 Line Things Up at Home
To fully relax while on vacation, you need to plan for your home while you plan your trip. If you will be gone for an extended amount of time, be sure you have measures in place to keep the belongings in your home safe. Ask neighbors if they can keep an eye on your house, or hire a house sitter to keep everything in line. This also includes finding care for your pets, whether that's through a pet sitter or boarding. Pro Tips: Leave a light or TV on in the house so it doesn't look empty at night while you're away, and tidy up before leaving so you come home to a clean house.
Pack Your Bags in Advance
Even if you are a travel expert, avoid packing the day of your departure. Pack your suitcase a day or two in advance. This time frame gives you ample time to pack your essentials, make changes to your outfit choices, and ensure everything fits. This is also close enough to your departure date that you can get a general idea of the forecast for your trip and what to pack. Rushing through packing the day-of increases both your stress levels and the chances of you forgetting something.
Have Transportation Arranged
Imagine this: You're at the end of your stress-free vacation planning, so close to your vacation you can taste it… but your Uber is late and your flight leaves in an hour. The final of the trip planning tips is to have your transportation situated for your trip. Schedule a ride to pick you up at a specific time and bake in some additional buffer time for things like traffic. This counts too for once you get to your destination, as scrambling for a ride to your hotel can be stressful and start your trip on a sour note.
Don't let vacation fatigue get in the way of enjoying your vacation! Use these simple trip planning trips to ensure your vacation is smooth-sailing from the time you plan your trip to the time you get back home. In no time, you'll become a master trip planner who knows all the ins and out of stress-free vacationing!