16 May, 2019
/
Clearlight Infrared Saunas
/
No Comments
HOW TO TAKE CARE OF SKIN IN SUMMER NATURALLY
With warmer and drier weather on the way, it's important to have a summer skin care routine that keeps your skin healthy and glowing. From sauna use to natural products, these natural skin care tips will help you avoid dry and damaged skin. Read below for tips for glowing skin in summer that will make you look and feel radiant all season long!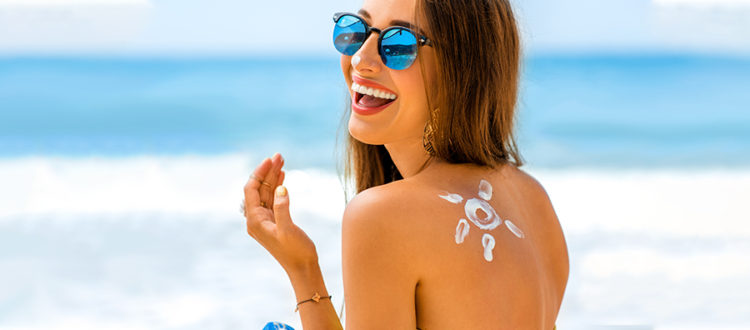 Importance of Natural Skin Care in Summer
Summer is all about fun in the sun, but too much sun can be an issue for your delicate skin. Sun exposure, heat, and dryness all can lead to skin damage, so it is important to find a summer skin care routine that protects your skin from these elements. From the products you use to the activities you do, learning how to take care of skin in summer naturally will save you from discomfort and health issues down the road.
Natural Summer Skin Care Routine Tips
Wear Sunscreen
This is one of the most important factors in your summer skin care routine. Getting a burn isn't just painful, it is extremely damaging to your skin as well. Even one sunburn increases your chance of skin cancer. Especially over time, damaging UV rays can affect the genetic makeup of your skin cells. The burn itself doesn't increase the risk of skin cancer, sun exposure does. Try to limit outdoor activities with direct sun, or be sure to wear at least SPF 30 sunscreen and appropriate clothing while in the sun.
There are many natural sunscreen options to keep your skin and the environment healthy and happy – you can even make your own! Apply 30 minutes before sun exposure and reapply the same amount every 2 hours. Your face, back, and shoulders may be obvious areas to cover, but don't forget your hands, feet, ears, and scalp.
Use an Infrared Sauna
Your skin holds on to the dirt and toxins you've encountered throughout the day, especially during the summer when you are in contact with sunscreen, pools, beach towels, and sweat. If not washed off or removed from your body, you face the risk of building up toxins and causing breakouts. While sitting in an infrared sauna in the summer might just sound like another hot activity, there are many detoxifying benefits to sweating it out.
Using an infrared sauna for skin care is a great and natural way to cleanse your pores and eliminate blemishes. Sweat helps remove deeply embedded impurities and dead skin cells, leaving you with clean and glowing skin in summer. It is important to cleanse your face after to avoid further clogging from the sweat and removed toxins.

Practice After-Sun Care
While sunburn prevention is preferred, burns happen to the best of us, whether it was an unexpected outing in the sun or a missed spot on your back. If you did happen to get a sunburn, your next best step is learning the proper after-sun care techniques to reduce the healing time. The sun damage will still be present, but you can still reduce the visibility and painful effects of burns with the right techniques.
After getting a sunburn, take a cool shower or bath to soothe your skin. Be very cautious of warm or hot water, as this will only exaggerate the pain and slow down healing. Use light cleansers and moisturizers while healing to avoid irritation. Aloe has been the go-to after-sun remedy for years as it offers cooling and moisturizing properties. Hydrate your skin by hydrating yourself with plenty of water, and be extra careful with future sun exposure.
Moisturize
When out in the sun all day, your face can use a boost of moisture. Applying a lightweight daily moisturizer with SPF is an easy way to give your face an extra layer of protection. Once you turn in for the night, give your skin another boost of hydration with a natural face cream that will help replenish your skin overnight. You'll want to avoid using moisturizers that are too thick, as they can clog pores. You can either buy an all-natural moisturizer or raid your pantry for natural ingredients that will help your skin glow.
Exfoliate
One of the biggest tips for glowing skin in summer is exfoliating. The heat and dryness in the air can lead to dry skin and dullness. Using a light exfoliator should be part of your regular summer skin care routine to reveal fresh and glowing skin. Avoid abrasive exfoliants on your face that can cause irritation, and don't exfoliate daily until you know your skin can handle it. Exfoliate your legs once a week to keep them glowing and to give you a cleaner shave. Be sure to use a natural exfoliant, or even make your own homemade scrubs with simple ingredients you can find in your pantry.

Cleanse Regularly
Making sure your face is clean and free of impurities is imperative during the summer. As mentioned earlier, our bodies are introduced to many toxins throughout the day – the sand on your beach towel, the chlorine in the pool, the buildup from sunscreen, and sweat in general. Your summer skin care routine should include a cleanse twice a day, once in the morning to wash off sweat or debris from sleeping and once at night to wash off impurities from the day. A clean face is more likely to absorb moisturizers to keep your skin glowing in the summer.
Battle Breakouts
You may realize you suffer from more breakouts during the summer months. Summer breakouts can be caused by a number of things, from increased sweat to the application of sun protection. Avoid skin irritation and breakouts by being mindful of what summer skin care products you're putting on your skin, as things like sunscreen, heavy moisturizers, bug spray, and tanning lotion can all clog pores. Opt for natural, oil-free products to keep your skin refreshed and healthy.
When going out and enjoying the sun this summer, keep your skin healthy with a natural summer skin care routine. Prevention is the key, but it also helps to make sure you have the proper tools and techniques to handle summer skin woes such as burns and dryness. Protect your skin this summer, and you'll be glowing all season!