05 Nov, 2020
/
Clearlight Infrared Saunas
/
No Comments
12 Healthy Holiday Tips to Prepare for Holiday Season
As November and December arrive, it means the holidays are upon us. This time brings around indulgent food, a whirlwind of events, and unfortunately seasonal colds. Learn how to continue your health journey, from eating healthy to preventing colds, even with the temptations of the holidays right around the corner with these healthy holiday tips.
Holiday Health Facts
Before jumping into tips on staying healthy during the holidays, take a look at these interesting holiday health facts:
The most weight gain people experience is the period from Thanksgiving through New Year
On average, holiday weight gain is slightly less than 2 pounds
Unlike holiday rumors may say, the suicide rate is the lowest in December
For those with heart disease or other risk factors, heart attacks around the holidays are more common
The average caloric intake for Christmas dinner is around 6000 calories
More than 20% of people set a New Year's resolution to lose weight or get fit
Seasonal affective disorder is estimated to affect 10 million Americans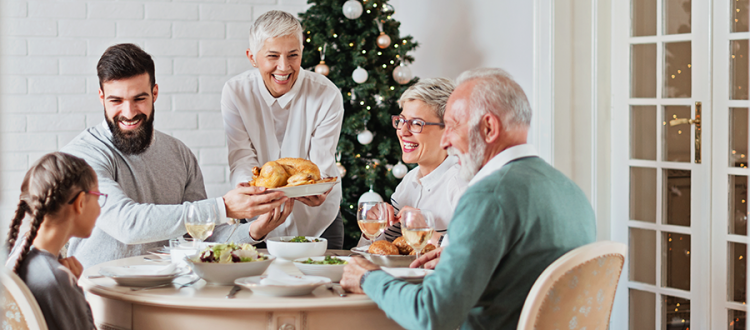 Healthy Holiday Tips for General Health
Prevent Sickness
Health is always a priority, and this year is highlighting its importance even further. During the holidays, it can be easy to catch a cold when the temperature drops and you are running around with holiday activities. Take extra precautions this year by taking vitamins and supplements, washing your hands, wearing a mask, and disinfecting items with a UV wand.
Detoxify Your Body
Detoxification before, during, and after the holidays can be a huge help to your overall health. All it takes is working up a bit of a sweat to start the detoxification process. Regular use of an infrared sauna helps promote detoxification of chemicals (and maybe some holiday treats) from the body to help you feel rejuvenated and relaxed during the holidays.
Be Active Daily
Getting your body moving every day, even if it's just for 15 minutes, will help with staying healthy during the holidays. The winter months make it easy to want to curl up on the couch and do nothing, but that can quickly lead to unhealthy habits and can even contribute to seasonal affective disorder. Movement helps boost endorphins and your health!
Get Enough Sleep
Sleep is often an overlooked part of your health, especially during the holidays. With holiday events, gift shopping, family obligations, and general life taking place, it is easy to miss some sleep. Sleep allows your body to rest and restore. If you are having trouble sleeping, try some sleep remedies such as sauna use, aromatherapy, or meditation to help.

Healthy Holiday Tips for Diet
Eat Healthy Ingredients as Often as Possible
Having a strict diet may be difficult to follow during the holidays, so try a different approach this year. Instead focus on eating healthy ingredients whenever possible. Delicious fall and winter produce makes it much easier to make delicious and nutritious meals that still have the holiday feel – and eating mostly healthy makes the indulgence feel less guilty!
Allow Yourself "Cheat" Days
Along the lines of eating healthy, diets are all about moderation, and it is important to allow yourself to indulge at times. The holidays bring treats and large meals with friends and family. Don't let dieting get in the way of creating memories with loved ones. Simply be aware of your choices so you don't overdo the indulgence and wind up feeling worse.
Offer to Host or Contribute to Meals
One of the easiest ways to have control over your diet during the holidays is by doing the cooking. This way, you know exactly what is going into your food and onto your plate. If cooking or hosting aren't your style, still offer to bring something on the healthier side or ask the host to prepare some lighter dishes if it isn't a hassle.
Drink Responsibly
Drinking is one of the worst things for your health during the holiday season. On top of the calories, alcohol can lead to a number of negative outcomes such as hangovers, sadness, and damaged organs. Just like with food, you don't necessarily need to cut out drinking, but do drink responsibly. And don't forget to drink plenty of water!

Healthy Holiday Tips for Mental Health
Don't Spread Yourself Too Thin
It is easy to get swept up in all the holiday activities and events that take place during this period, but you aren't doing yourself or anyone else any favors by saying yes to too many things. Give yourself a break and only say yes to things that you truly have time for and will enjoy being a part of. Your loved ones will understand if you need to pace yourself.
Set Boundaries
The holidays are great, as you get to see friends and family that you probably don't see regularly! However, that also means that there are a lot of new people to factor in. Set boundaries to make these new social interactions less stressful, whether that means being upfront about topics to avoid or being firm about what time you're leaving an event.
Make Time for Yourself
Hopefully with this list of healthy holiday tips you are seeing the importance of putting time into your own health during the holidays. So often we get caught up in catering to others during this period, but be sure to make time for yourself as well. Set aside 30 minutes every day to do something for just you – have a spa day, read a book, or work on a hobby.
Balance Your Social Needs
Your mental health relies on many things, and social interaction is one of them. Balancing your social interactions during the holidays is important for balancing your emotions. Too much interaction can cause you to burn out, whereas too little interaction can contribute to seasonal affective disorder. Gauge what's right for you and stick to it this holiday season.
This year, really put a focus on your health during the holiday season. Being successful in being healthy and having a good time requires moderation and setting boundaries for both yourself and for others. Use these healthy holiday tips to stay on track, but also don't hold yourself back from making memories just to save a few calories!