09 Jul, 2019
/
Clearlight Infrared Saunas
/
No Comments
HEALTHY TRAVEL TIPS FOR STAYING FIT ON VACATION
If you've spent the last months getting in shape for summer, you probably want to maintain your efforts and stay healthy while on vacation. From indulgent meals to not having time to hit the gym, it may seem difficult to maintain your health and fitness goals while taking a trip. Luckily, there are plenty of opportunities for staying healthy on vacation. These suggestions will cover healthy travel tips such as exercises, eating tips, and healthy travel practices to do on-the-go.

General Healthy Travel Tips
Stay Hydrated: From walking all day to hot temperatures to indulging at the local bar, going on vacation opens up plenty of possibilities for dehydration. Be sure to stay hydrated on your trip to avoid feeling run down. Keep in mind that many countries do not offer water free of charge at restaurants, so pack a reusable water bottle.
Don't Forget Sunscreen: Practicing proper skin care while on vacation is often an overlooked aspect of healthy traveling. Travel typically means spending a lot of time outside and exploring, and your skin deserves to have a vacation too! On top of protecting your skin with sunscreen, pack your cleanser and moisturizer as well.
Pack Appropriately: You know that, "I'm forgetting something…" feeling? Avoid that with a packing list. Take a close look at your vacation itinerary to see what kind of activities are planned and pack accordingly. Not much is worse than getting to your destination realizing you packed only sandals when you needed sneakers.
Get Enough Rest: It's easy to be constantly on the go when enjoying a new place. While going nonstop may seem like the best way to fit every activity in, you will soon find that burnout is inevitable. Take breaks when needed and aim to get plenty of sleep every night to keep your body fueled and happy for your vacation.
Follow a Routine: One good way to throw off your vacation is by throwing off your routine. Sure, vacation life is different from everyday life, but staying healthy on vacation is much easier when your body isn't throw off from what its used to. Keep sleep, meal times, and medication schedules similar to keep your body feeling familiar.

Practicing Mental Health on Vacation
Be Prepared
A healthy vacation starts with healthy planning. Your vacation mental health begins even before you arrive at your destination. Making sure everything at home is squared away and putting together a schedule and general plan for your trip helps reduce vacation fatigue and stress while on your trip meant for relaxation.
Take it Slow
Even though we have suggested planning a schedule for your trip, be wary of over-planning. Having a strict schedule can lead to added stress, especially when the inevitable unexpected plan change happens. Take your vacation time to relax and take it slow instead of worrying about meticulously planning every minute.
Treat Yourself
While on your trip, keep your vacation mental health on track by treating yourself to some luxuries you might not usually indulge in. Book a spa day filled with massage therapy, facials, and relaxing your body and mind in an infrared sauna. Even simply laying by the pool and reading your favorite book can give you that pampered, relaxed feeling.

Exercising on Vacation
Find a Hotel Gym
Hotel gyms aren't equipped quite as well as a full gym, but they can be a key component to staying fit on vacation. Most hotel gyms have the basics – some weights, treadmills, ellipticals, and an exercise ball. That being said, you never know just what your hotel will have, so bring your own mat if you can and be prepared for bodyweight exercises.
Do a Hotel Room Workout
When you're on vacation, making it to the gym might not be high on your list of to-dos. If you still want to workout on vacation, you can easily fit in a quick hotel room workout before heading out for daily activities. Working out in your hotel room means no equipment, making it easy to stay healthy on vacation and get your blood flowing.
Make it Fun
Staying in a gym or hotel room sound like a boring way to spend your vacation? Incorporate exercise into your travels to make them fun and enjoyable. Whether you choose to explore and walk 5 miles, go on a local hike for views off the beaten path, or getting adventurous with snorkeling, you probably won't even know you're exercising on vacation.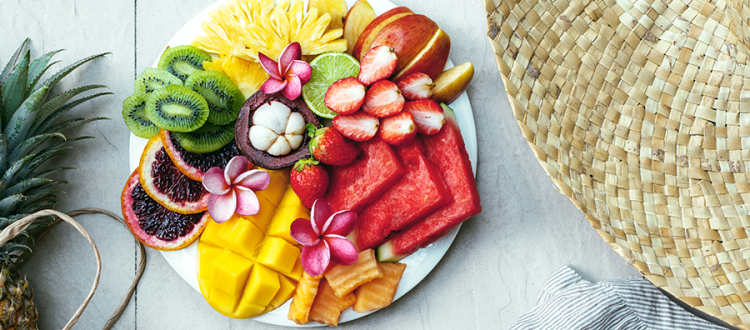 Eating Healthy on Vacation
Don't Skip Breakfast
Breakfast is the most important meal of the day, especially when you're eating healthy on vacation. Many hotels offer free breakfast, which saves you money and provides fuel for a day full of activities. Being full in the morning prevents the urge for unhealthy snacks later in the day. Even if it is a small breakfast, aim for a good balance of protein and carbs.
Eat Fresh When Possible
Depending on where you go, eating healthy on vacation can be as simple as trying the local produce. Look for local items on menus that indicate fresh, unprocessed ingredients. Fresh, local produce is healthier, more delicious, and more authentic than any pre-packaged food you will find on vacation. Be open to trying new foods you might not find at home!
Practice Moderation
Staying fit on vacation doesn't mean you have to give up on all the delicacies your destination has to offer. Vacations are meant to be enjoyed, and if you want to eat something, eat it! Just be wary of portion sizes and be sure to find a balance between indulging and eating healthy. Overindulging and under-indulging can both lead to post-vacation blues.
Going on a trip doesn't have to mean losing track of your health and fitness. By following thee healthy travel tips, you can easily maintain your mental health, workouts, and healthy eating on vacation while having the trip of your life!