21 Feb, 2019
/
Clearlight Infrared Saunas
/
No Comments
INFRARED SAUNA CLEANING 101: SAUNA MAINTENANCE & CARE TIPS
Investing in an infrared sauna is the ultimate step toward investing in your health. Just like you need to take care of your body to keep it running smoothly, you need to take care of your infrared sauna. Making sure you take proper care of your infrared sauna ensures you'll be able to enjoy its benefits for years to come. Read below to find tips that cover maintenance, cleaning, and care tips to keep your infrared sauna performing optimally!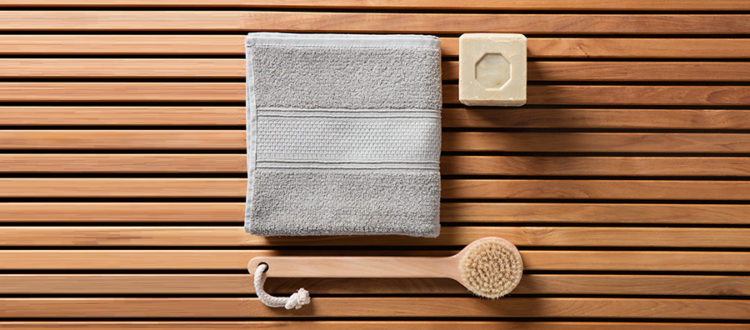 Infrared Sauna Cleaning Tips
Because Jacuzzi® infrared saunas provide dry heat, they require very little cleaning. The interior can typically be cleaned with a simple wiping down with a damp cloth. Do a light cleaning after every use, and aim to do a slightly more thorough cleaning every two weeks or so to maintain optimal cleanliness.
When more than water is needed for a more thorough cleaning, you may use a sauna cleaning solution or make your own. To make your own sauna cleaner, diffuse a few drops of high-quality essential oil in water and lightly wipe down the interior of your infrared sauna for a mild clean and refresh. You can also make a solution of 1 tablespoon of baking soda in a gallon of water to lightly scrub the wood and rinse for a deeper clean.
Using pure water will help reduce future maintenance as it avoids any minerals that may cause buildup in your infrared sauna. While unfiltered water is fine for cleaning, you can save yourself some additional work down the road by using filtered or distilled water.
How to Clean a Sauna Bench
Your sauna bench is the area that gets the most use during your sauna sessions. Because of this, you will need to take extra care to keep them clean. After each use, wipe the area down with a damp cloth. Perspiration stains are common to form from your body, and are nothing to worry about. If stains appear, remove them easily removed by lightly sanding the area.

How to Clean a Sauna Floor
Aside from the bench, the sauna floor is the most trafficked area of your sauna and can easily trap debris and bacteria. Use a vacuum hand attachment once per month to clean dust or dirt from your sauna that may have collected over the course of use. It is beneficial to mop your sauna floor from time to time with a sauna cleaning solution for a more thorough cleaning.
How to Clean Sauna Walls
The interior walls of your infrared sauna can be cleaned with the sauna cleaners mentioned above. For exterior walls, treat the wood like you would any piece of fine furniture. If using a polish (NOT paint or varnish) on the exterior wood, reapply when needed to maintain shine. Outdoor infrared saunas will require more exterior maintenance, and a periodic pressure washing will help keep the outside looking pristine.
How to Clean a Sauna Heater
Our Jacuzzi® infrared saunas naturally produce negative ions that help purify the air through the ceramic compound in True Wave heaters. Even so, your sauna heater may need an occasional wipe down. Simply use a damp sponge to wipe off any debris, fingerprints, or other buildup that may have collected over time. Just be sure the heater has cooled down prior to cleaning to prevent burns.
Infrared Sauna Maintenance Tips
Clean Yourself
Your body is the only way moisture, dirt, and dust can enter your infrared sauna. Because of this, you can minimize the chances of dirtying up your sauna by taking a quick rinse and dry before heading into your sauna session. If you cannot rinse off before entering, take extra care to clean away any debris you may have tracked in.
Use a Towel
When using your infrared sauna, use a towel on the bench and under your feet. On top of it adding another layer of comfort, this prevents stains forming in the wood from sweat, body oil, dirt, and dead skin cells. While the stains don't affect performance, they can affect appearance.

Go All-Natural
Never varnish or paint your sauna. While you may want to match the wood to your decor, paints and stains prevent the natural wood from breathing. Breathing allows the wood to stay clean and feel "soft" with the heat.  You may, however, use furniture polish on the exterior.
Stay Dry
If you notice excess moisture after a session, wipe off any excess perspiration with a hand towel. You can also crack the door or roof vent and keep the sauna running for a few minutes once your session is over to evaporate any remaining moisture. This helps air out the sauna to keep it fresh.
Don't Overdo It
Infrared sauna maintenance is quick and easy, so don't worry about spending large amounts of time to clean. Taking the little steps after each use will minimize your work even more, so make the above sauna cleaning tips a habit.
With the proper care and attention, your Jacuzzi® infrared sauna will give you stellar performance for years to come. Make your sauna cleaning easier by taking the small steps along the way to prevent any issues from forming. Learning how to clean a sauna takes no time at all, and has long-lasting results.