07 Feb, 2019
/
Clearlight Infrared Saunas
/
No Comments
HEALTHY RESOLUTIONS CHECK-IN FOR WELLNESS IN THE NEW YEAR
2019 has kicked off, and New Year's resolutions are in full swing! January is always the most active month for healthy resolutions, but now is when people tend to fall off and revert back to their old ways. We've put together a list of our favorite healthy resolutions that are easy to maintain after the hype of the start of the year is over.
So are you on track with your healthy New Year's resolutions? Read below to see what you can do to keep them up, and maybe add a few new healthy resolutions to your list for wellness in the new year!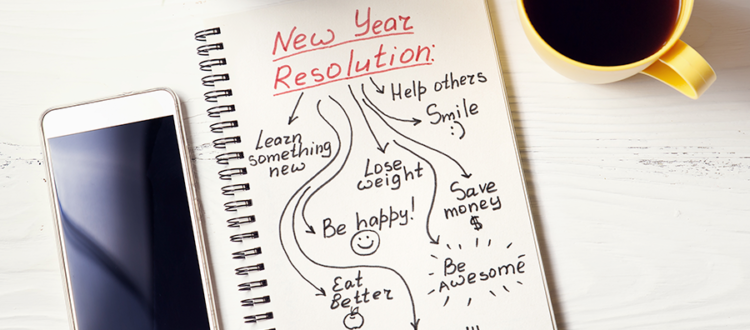 Health & Wellness Resolutions
Be Kind to Yourself & Others
It has been found that negative thinking is linked to increased stress, lower self-esteem, and even increased risk of death. Make it a goal in 2019 to spread positivity. Remind yourself of your successes and capabilities, and help others on their positivity journey by being kind to those around you. A smile or compliment goes a long way!
Cook at Home
Start cooking more of your meals at home this year, whether it's through meal prep for the week or by having a few date nights at home. Studies show that people who cook at home consume fewer calories than those who don't – both at home and while out. Cooking at home also allows you to use healthier and fresher ingredients.
Declutter Your Life
Cleaning up your home and organizing your life is the "in" thing to do right now, and it's something we can get behind. Get a head start on spring cleaning this year by decluttering your home, organizing files, and keeping things tidy. Decluttering has been shown to decrease anxiety, reduce allergens, increase productivity, and more.
Disconnect for a Bit
In this day, our phones are always around. Make one of your healthy resolutions for the remainder of the year to disconnect from time to time. Whether you do a 24-hour phone detox or simply make an effort to not use technology 30 minutes before bed, unplugging can give you time to connect and be present in life on a new level.
Do a Quarterly Detox Diet
Sticking to a new diet plan that is too rigorous can lead to you losing steam, which can cause you to cut the diet short. Instead, stick to making small lifestyle changes with your diet that are manageable for long-term success, and do a quarterly detox to get a fresh start every few months. Less of a time commitment and more success!

Drink to Your Health
What you drink can make a huge impact on your health. For the remainder of the year, be mindful of what you have in your glass. The goal: Drink more water; drink less soda, alcohol, and sugary juices. Staying hydrated has a number of health benefits like muscle cramp prevention, detoxification, better skin, and better brain function.

Get More Sleep
This tip is imperative for wellness in the new year. Maybe January was busy with getting the year started, but now you have the rest of the year to get your sleep schedule on track. Getting ample sleep helps reduce stress, improve cardiovascular health, and boost your immune system. All you need to do is catch some Zs!
Improve Your Posture
We'll bet you just sat a little straighter or stood a little taller after reading that, didn't you? Being conscious of your posture is a simple and effective wellness fix, as good posture has many health benefits such as reduced back pain, increased energy levels, boosted confidence, improved workouts, and more. It only takes a second.
Join a Fitness Class
"Join the gym" is probably one of the most-used New Year's resolutions around. Now that the first month of the year is over, gyms empty out as people burn out on their resolutions. Avoid burnout the remainder of the year by finding fitness you enjoy and keeps you moving, whether that's yoga, spin, a running club, or something else.
Learn How to Say "No"
This might be one of the most difficult healthy resolutions, as it requires unlearning a lifetime of saying yes. In 2019, tend to your mental health by learning how to set boundaries for yourself by saying no to things that do not add value to your life. Simply be firm and kind, and know that you come first for your own mental health.
Pick Up a New Life Skill
Take the rest of the year to develop a new life skill! Have you been wanting to learn a new language? Or maybe you're ready to learn how to master the kitchen? Whatever you choose, make this your year to learn and become a better-rounded person. As the saying goes, a year from now, you'll wish you started it today.

Plan a Vacation
In 2017, it was reported that 52% of employees in the United States had unused vacation days. While working is necessary, so is taking a break! You have 11 months left to use up those days, so start planning your vacations! Not only will you get a well-deserved time to relax, you also have something to look forward to over the year.
Spend Time Outside
There's nothing like some fresh air to keep you feeling fresh. When weather permits, opt for a stroll instead of a short drive. Read a book or have your morning coffee on the patio when you have time to relax, or plan a full day of hiking. Whatever you choose, you'll increase your Vitamin D, feel happier, and get more exercise.
Try New Health Practices
Been interested in trying some new health practices? This year is your time to try something new. Depending on your desired health benefits, there are plenty of great practices to look in to. Some of our favorite health practices are detoxifying in an infrared sauna, chilling out with cryotherapy, releasing tension with acupuncture.
Visit Your Doctor Regularly
Forgetting to book your regular appointments can be easy with the hustle and bustle of everyday life. This year, make it a priority to get your routine checkups with your doctor and dentist, and don't be shy to make appointments when feeling sick. It's better to maintain health than to only tend to it once you're already sick.
Maintaining your healthy resolutions doesn't have to be a New Year's activity that fades away after the excitement of January. Use these tips to make sure your health New Year's resolutions last throughout the whole year! Your mind and body will be on the right road toward total wellness in the new year and beyond.