Sure, you know how to sit in a sauna, but do you know how to do it like a pro? There are plenty of opportunities to take your home sauna to the next level and truly create a sanctuary at home. From using enhancements like aromatherapy and halotherapy to general sauna safety tips, read on to learn how to get the most of a sauna at home by making it a truly incredible sauna experience.

How to Get the Most Out a Sauna with Enhancements
Chromotherapy
Chromotherapy, also called color light therapy, is the process of restoring balance to the body by applying color. Color light therapy relies on the premise that each color is associated with a different bodily response. For example, red is typically associated with stimulation, while blue is considered a mentally relaxing color.
Color light therapy has been reported to temporarily reduce swelling, relieve pain, decrease inflammation, accelerate open wound healing and greatly reduce overall recovery after medical and surgical procedures. When paired with a healthy lifestyle, chromotherapy patients have demonstrated increased range of motion, decreased muscle tension and spasm, and improved circulation. Your home sauna from Clearlight has chromotherapy lights built in to help you reap all the benefits of color therapy.
Halotherapy
The practice of salt therapy, or halotherapy, uses microsalt to promote a range of health benefits once inhaled. Many believe that when people inhale this salty air, it can help stimulate their respiratory system, reduce inflammation, fight infection, clear blockages and reduce discomfort.
The treatment is intended to recreate the atmosphere of salt caves with a high concentration of micronized salt in the air. One of the best solutions on the market is the Microsalt Halotherapy Generator that can be incorporated into your sauna and used to crush salt into microparticles that are easily inhaled. Creating your own salt sauna experience allows you to combine the powerful detoxifying properties of infrared therapy with the healing benefits of halotherapy.

Aromatherapy
Spending time in an infrared sauna is relaxing on its own, but you can enhance the experience even further by incorporating essential oils. It is important to note that essential oils are very strong and should be diluted or used with a carrier oil to avoid too much exposure. Ten of the best essential oils for sauna aromatherapy include birch, cinnamon, citrus, eucalyptus, frankincense, lavender, peppermint, pine, sandalwood, and tea tree oils.
Depending on your desired results, try mixing different essential oil combinations. Some simple combination ideas include citrus + peppermint for an energizing experience, pine + birch to go woodsy, and lavender + sandalwood for mental clarity and relaxation. Simply place a few drops of your favorite oil in a small container and place it in your home sauna to be heated and enjoy.
Red Light Therapy
Red light therapy, also known as photobiomodulation, LED light therapy, and low level light therapy, works by using red low-level wavelengths of light to produce a biochemical effect in cells by penetrating approximately 5 millimeters below the skin's surface. This effect helps strengthen the mitochondria and increase cell energy to improve performance of cells. Red light is considered "low level" because it works at an energy density that's low compared to other forms of laser therapies.
The light from near infrared LEDs has been shown to bring energy to cells, reduce pain, increase collagen and elastin production in skin cells, speed up the wound healing process, reduce inflammation and provide numerous anti-aging benefits. To use red light therapy with your sauna at home, you can attach a Jacuzzi® Light Therapy tower to the door of your sauna.
Vibration Resonance Therapy
This additional therapy combines the healing effects of sound and vibration to soothe all systems of the body to bring you to a deeper state of relaxation. In your sauna, the vibration resonance therapy (VRT) modules attach to the bottom of the sauna bench and use an amplified audio signal to resonate sound waves to the surface of the sauna.
Listen to some soothing music while using VRT to really let the sounds and vibrations resonate throughout the body and stimulate the body's natural relaxation response. Including vibration resonance therapy in your home sauna sessions enhances the rejuvenating properties of infrared therapy. Think of it as a light touch massage for your body and mind during your sauna session.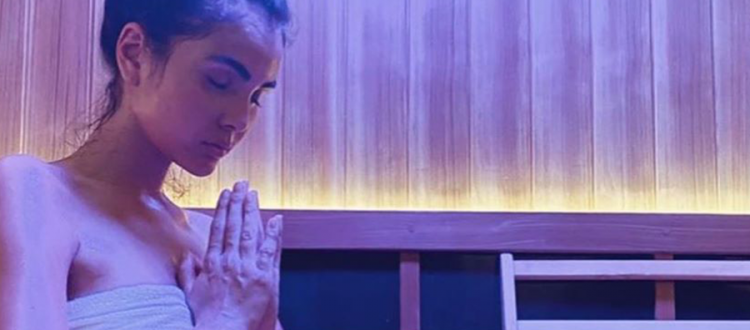 How to Get the Most Out a Sauna with Activities
Hot Yoga
As the name implies, hot yoga is the practice of yoga in a heated setting. Hot yoga sessions are typically more vigorous and intense than the average yoga practice. Many use hot yoga as a way to connect with their body physically, mentally, or spiritually. Both infrared saunas and hot yoga offer the health benefits of detoxification, weight loss, flexibility, and reduced stress. Doing hot yoga in a sauna is the perfect scenario!
Meditation
A home sauna creates the perfect environment for you to disconnect from everyday life and connect with yourself instead. Taking just 10 minutes of your day to meditate in your sauna can help significantly reduce your stress. On top of meditation, breathing exercises can help bring you to a state of mindfulness and concentration, which can help you push through the heat sauna session and get comfortable.
How to Use a Home Sauna: Tips & Safety
Home Sauna Tips
Place your sauna near a shower or pool for easy access.
Bring a towel to sit on for comfort and cleanliness.
Take a shower before and after your sauna session.
Block off uninterrupted sauna time so you can fully relax.
Home Sauna Safety
Limit your sessions to approximately 20 minutes.
Don't use a sauna before working out.
Keep water nearby to stay hydrated.
Don't use a sauna if pregnant.
End your sauna session if you begin to feel lightheaded.
If you have a sauna at home, you are already on the right path toward wellness! But now that you've learned how to get the most out of a sauna, you are about to experience a whole new approach to your sauna sessions with increased health benefits. If you are considering buying a sauna, take these tips into consideration so you can design your ultimate sauna experience.